America's Unpredictability Is Worrying Russia
By
Influence in Washington stymied as election probes continue

Neither regrets nor triumphalism a year after Trump's election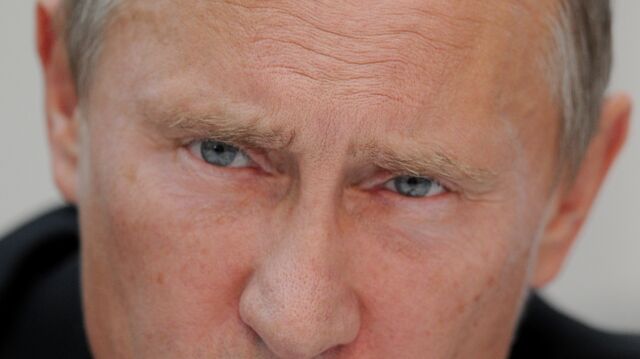 Russia may have got what it wished for with the election of U.S. President Donald Trump, but almost a year later Moscow's foreign policy community shows more signs of alarm than triumph.
Alongside statements of neutrality toward the U.S. vote from officials and others at a Kremlin-sponsored gathering of foreign and domestic Russia-watchers this week, there's deep concern that the role of an unpredictable, militarily adventurous superpower – played by Russia since 2014 – may be passing to the U.S.
Russia's ability to influence the debate in Washington, let alone reset a damaged relationship, has vanished, according to current and former policy makers at the annual Valdai Club conference in Sochi. With an official investigation under way into alleged Russian meddling in last year's U.S. presidential election, Russian diplomats have become too toxic even to talk to in Washington, said one official, speaking at a closed panel under so-called Chatham House rules.
"Russia has become a meme'' for America's internal political debate, just at the moment when "the U.S. has become the biggest factor for uncertainty in the world,'' said Fyodor Lukyanov, the Valdai Club's research director and chairman of Russia's Council on Foreign and Defense Policy. "No one can deliver such turbulence as the U.S.''
Feeling 'Helpless'
That has left Russian leaders feeling confused, apprehensive and even "helpless'' after a brief period of optimism that followed Trump's inauguration, said Lukyanov. Meanwhile, Moscow's own "willingness to play risky games is much less than before.'' In Syria, he said, Russia's generals are pressing for an exit from active conflict. In Ukraine, Russia recently proposed a limited deployment of United Nations peacekeepers to the conflict zone.
Russian warnings of a potential war between superpowers triggered by events in smaller countries, as in World War I, were louder this year than at previous meetings and dominate the organization's annual report. The risk of conflict on the Korean peninsula and fraying arms control treaties loomed large.
None of this has produced nostalgia for Barack Obama, or regret that Hillary Clinton lost the 2016 election. Both figures continue to be reviled among Russia's foreign policy elite.

"We don't think in those terms,'' said Sergey Kislyak, until earlier this year Russia's ambassador to the U.S., who found himself at the heart of the campaign-meddling storm in Washington. Russia, he said in an interview, doesn't bet on U.S. presidential candidates. "We aren't naïve. We know the U.S. is like a supertanker: It takes a long time to make a U-turn.''
Trump Constrained
Still, others were less sanguine. Foreign Minister Sergei Lavrov said he thought Trump still wants to do the right thing with Russia but is constrained by a rigid establishment. One panel celebrated the demise of the liberal, Western-dominated global order and looked forward to what might replace it.
Where two former State Department officials in a closed session lauded strong U.S. institutions and "the adults'' in Trump's administration for limiting his worst instincts, a Russian official saw that as part of a conspiracy to deny the election result.
That political inertia isn't a strength, according to the Russian official, who described the Republicans and Democrats as two wings of the same party protecting the interests of an elite.
Still, Russia has little choice but to keep pushing for reconciliation with the West, according to Andrey Kortunov, director general of the Russian International Affairs Council. The answer may come from Russia, which holds presidential elections next year, rather than the U.S., he said.
No 'Second Breshnev'
After 18 years, President Vladimir Putin -- who has officially denied his government meddled in the U.S. election -- "has no interest in becoming a second Brezhnev,'' said Kortunov, referring to the former Soviet leader Leonid Brezhnev, whose long rule from 1964 to 1982 ended with economic stagnation. Reform requires reconnecting with European investment and would promote a change in foreign policy. At the same time, according to Kortunov, the appetite for change will depend on how secure the leadership in the Kremlin feels -- and there the U.S. plays a vital role.
Putin is due to address the conference on Thursday.
For all their denials, Russian leaders underestimate the fallout from their involvement in the U.S. election campaign and are beginning to calculate the cost, said Angela Stent, a professor at Georgetown University in Washington and former diplomat, who served on the U.S. National Intelligence Council from 2004 to 2006. "Now the unpredictability is coming out, I think they are a little scared.''
Before it's here, it's on the Bloomberg Terminal.
LEARN MORE