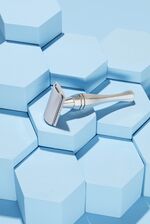 THE CHARACTERISTICS
Wilde & Harte Ltd. is a newcomer to expensive razors. Started in 2014 by two veterans of the luxury shaving market, the company manufactures all its products in the U.K. The Eltham is a traditional double-edge safety razor, a type that's making a comeback among men who enjoy the close shave of a straight razor without the nicks that can go along with it. Unlike a twist-to-open-style safety razor, the three components of the Eltham's head—top, bottom, and the blade in between—come apart only after you unscrew the octagonal handle. Made of noncorrosive stainless steel, the razor weighs 110 grams (4 ounces) and is 100 millimeters (3.9 inches) long. It's named for Eltham Palace, a residence of Henry VIII.
THE COMPETITION
Shaving clubs and blade-by-mail memberships are more popular than ever. But for those who prefer a good blade instead of five mediocre ones—and don't want to spend $172 for the Eltham—the $30 Edwin Jagger DE89 is also British-made and has standard-setting brass handles plated in chrome. The Merkur line of razors, starting at $29, is manufactured in Germany and comes in a wide range of sizes. Both of the Eltham's rivals, however, have straight shafts and knurled handles, as opposed to its weighted, beveled design.
THE CASE
There are no guarantees when you put your face up against the straight edge of a razor, but the Eltham is as good an option as any that exists. The handle is wider and heavier up near the blade, which gives more control at the point of shave attack. Its smooth finish doesn't allow for any extra features to provide a better grip, but the balanced weight gives the razor a fit that feels snug in the center of the palm. Best of all, it's a dependable, old-school Dopp kit accessory—handy enough for a quick touch-up on business trips or as a nonelectric staple for a longer stay. Wilde & Harte Eltham safety razor; $172; wildeandharte.co.uk
Before it's here, it's on the Bloomberg Terminal.
LEARN MORE