Scaramucci's Media Venture Apologizes for Holocaust Death Poll
By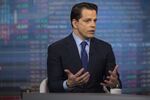 Former White House Communications Director Anthony Scaramucci's new media business, ScaramucciPost, apologized Tuesday after it published a poll on Twitter asking "How many Jews were killed in the Holocaust?"

The outlet, which Scaramucci started once he was fired by the Trump administration less than two weeks after he was hired, said the poll was put up by a colleague while the founder was traveling in London. The colleague, Lance Laifer, said the poll was meant to demonstrate public ignorance.
Up to 6 million Jews were killed as the result of the Nazi regime, along with millions of prisoners of war, people with disabilities, Soviet civilians, Roma and others, according to the U.S. Holocaust Memorial Museum.
Read more: Scaramucci's next act
Before it's here, it's on the Bloomberg Terminal.
LEARN MORE