Remarks
Sacramento Nudges People to Use Less Electricity at Peak Hours
Another victory for behavioral economics, for which Richard Thaler just won a Nobel prize.
By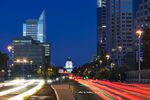 Electric utilities have a problem with peak demand. They need to build enough power plants to keep the lights on and the air conditioning running on the hottest days, even if many of those plants operate only a few days a year. Sacramento Municipal Utility District in California calculated that it could build 44 percent fewer "peaking" plants if it could cut peak usage by charging more for power during periods of high demand. The problem for the utility was that most customers didn't sign up for variable pricing plans.
Enter the "nudge," which is the term that Richard Thaler uses to describe attempts to guide people toward better choices. Thaler, of the University of Chicago Booth School of Business, won the Nobel prize in economics earlier this month.
From 2011 to 2013, SMUD conducted a field experiment involving 174,000 households. Some were automatically enrolled in variable-pricing plans. These households had to opt out if they wanted to go back to their old rate plans. For comparison, another set of households had to make a choice to opt in to the variable rates.
The nudge worked. More than 95 percent of customers who were automatically enrolled in a variable-pricing plan stayed in it. In comparison, only 20 percent of people who weren't enrolled in a variable-pricing plan joined one.
That alone wasn't surprising; automatic enrollment (with an option to opt out) has been shown to increase participation in a wide variety of programs, from organ donation to 401(k)s. The concern, though, is always that plopping people into opt-out programs could make some of them worse off. With electricity, for example, some people put into a variable price plan could end up paying more because they're not paying enough attention to take advantage of it, or because they don't want to change their usage but procrastinate about opting out.
Getting stuck with the wrong option did not seem to be a problem in Sacramento, according to an analysis by Meredith Fowlie of the University of California-Berkeley, Catherine Wolfram of Berkeley's Haas School of Business, and four other Bay Area researchers. The customers who had been automatically enrolled in variable-pricing plans ended up embracing them, albeit slowly. Those enrolled in the "critical peak pricing" plan cut their electricity consumption during high-cost peak periods by 7 percent. By shifting their consumption to cheaper, off-peak periods, they reduced their monthly bills on average. The 7 percent decline was meaningful, although not as big as the 25 percent reduction by people who opted in to the plans and were presumably savvier consumers.
Things got better in the second year of the trial. The people who had been automatically enrolled got more into the swing of things, cutting their peak-period consumption by 12 percent, up from the initial 7 percent. (Meanwhile, the opt-in crowd got slightly less diligent, cutting peak-period consumption by 23 percent, rather than the first year's 25 percent.)
The results suggest that the automatic enrollment "encourages customers to learn about a new experience" that they come to like, the paper says. "In sum," the authors write, "we see these results as consistent with a scenario where consumers are nudged onto the rates, perhaps because they are not paying attention, and once on the rates, they learn to adjust to them and some even prefer them to standard rates."
SMUD was impressed enough by the experiment that it's rolling out automatic enrollment to all its electricity customers starting late in 2018, with the goal of converting all of them by the end of 2019, a spokesman says. Customers who prefer flat-rate pricing will retain the right to switch back to it.

 

Peter Coy
Bloomberg Businessweek Columnist
Peter Coy is the economics editor for Bloomberg Businessweek and covers a wide range of economic issues. He also holds the position of senior writer. Coy joined the magazine in December 1989 as telecommunications editor, then became technology editor in October 1992 and held that position until joining the economics staff. He came to BusinessWeek from the Associated Press in New York, where he had served as a business news writer since 1985.
Before it's here, it's on the Bloomberg Terminal.
LEARN MORE