Palantir Will Struggle to Hold On to $20 Billion Valuation, Study Says
By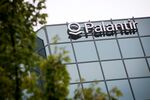 If Palantir Technologies Inc. pursues plans for a public offering and follows through by 2019, it will need to rein in spending and woo corporate customers just to be able to hang on to a $20 billion valuation it was awarded two years ago, according to a new study. It could also be worth a lot less.
The sober assessment by SharesPost Research of Peter Thiel's aging data analytics company comes as it moves from serving mostly government clients to corporate ones and attempts to turn a profit for the first time in its 13-year-history. Palantir also needs to make adjustments to its tools that would make them more accessible, according to an early copy of the study reviewed by Bloomberg.
"Creating software that works right out of the box is a focus for Palantir, but it's not something that will happen overnight," said Rohit Kulkarni, managing director of SharesPost's research group and author of the 78-page report. SharesPost Inc. owns both the research group and has an investment arm that owns Palantir shares.
Co-founded in 2004 by Thiel, Palantir is among the world's most highly valued companies, recently ranked at No. 5 along with WeWork Cos. The company's customers include government spy agencies around the world and it has pursued  businesses in recent years, most recently securing long-term deals with the likes of Merck KGaA and Airbus SE. It's also had a string of defections from marquee clients including Nasdaq and Home Depot Inc. And Hershey Co. told Bloomberg that it abandoned Palantir after discovering it could build its own system for less money. 
Among Palantir's chief challenges is automating functions once handled by engineers -- like data integration and cleansing – and minimizing its consulting model, which carries a high cost for customers and low margins for Palantir, according to the report.
Kulkarni wrote that the market for big data and analytics is growing -- research group IDC pegs the sector at $210 billion by 2020 -- and that Palantir faces intense competition from established companies including IBM, Microsoft Corp., Oracle Corp. and SAP SE as well as niche players including Qlik Technologies Inc., Tableau Software Inc. and Splunk Inc.
Palantir's bookings will hit about $3.5 billion by the end of 2017, with cash collections representing around one-third of that, according to the report. A Palantir spokeswoman declined to comment on the report or discuss Palantir's financial performance.
Chief Executive Officer Alex Karp said earlier this year that since corporate customers now represent about half of revenue, the company is expected to turn a profit in 2017 and would explore an IPO or sale at some point.
Seven fund management companies own shares in Palantir, according to data compiled by Bloomberg. Fred Alger Management Inc. hasn't adjusted share value since purchasing them in December, while Baillie Gifford & Co. and BlackRock Inc. have marked up values by 7 percent and 30 percent, respectively, according to Bloomberg Holdings Data. GSV Capital Corp., Transamerica Investment Services and Morgan Stanley have slashed values by 11 percent, 30 percent and 47 percent, respectively, the data show. SharesPost hasn't adjusted the value of its Palantir holdings from the $7.51 per share price it paid to acquire them in March. That's 34 percent less than the $11.38 investors awarded it in late 2015.
Palantir isn't the only tech company that's been downgraded and private share prices can vary greatly among holders since valuing illiquid shares is more art than science. Dropbox Inc., WeWork and Domo Inc. have also had a range of values assigned by shareholders who disagree.
Palantir "is currently valued much higher than its peers in the big data and analytics space," Kulkarni wrote, adding that he believes Palantir will maintain the rich valuation if it keeps adding corporate clients and expedites cost cutting. He wrote that Palantir remains an attractive acquisition target – Oracle weighed the option last year but demurred – and estimated Palantir's low-end value in 2019 at $13.8 billion.
Before it's here, it's on the Bloomberg Terminal.
LEARN MORE