Iraqi Forces Widen Push to Recapture Territory From Kurds
By and
Government's militia allies say Sinjar retaken without a fight

Kurds see the oil-rich area as a vital financial lifeline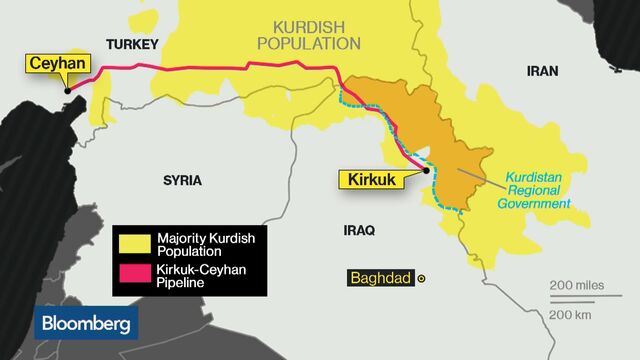 Iraqi forces pressed their campaign to retake oil-rich territory from Kurdish fighters, widening a conflict that has roiled markets and could stoke tensions outside the country's borders.
Militiamen in the Popular Mobilization Forces operating alongside federal government troops captured the town of Sinjar without resistance, Rayan Al-Kildani, a spokesman, said Tuesday. "The next step is to continue imposing security, order, and the presence of federal troops in remaining Nineveh plain towns," Al-Kildani said by phone.
The offensive was triggered by a non-binding Kurdish referendum on independence that was approved overwhelmingly in September and made more politically charged by the regional government's decision to include Kirkuk, even though it lies outside the semi-autonomous Kurdish region. The area is home to the country's oldest oil field.
As Kurdish territorial losses mounted, Masoud Barzani, president of the Kurdish region, lashed out at his rivals. A "certain political party had unilaterally paved the way" for the Iraqi offensive, he said in a statement. His comments were a tacit jab at the Patriotic Union of Kurdistan, a major force that had been largely excluded from the decision to press for independence. Fighters under its control gave up their positions in Kirkuk rather than defend them.
Barzani "can't fight a war with them," Ayham Kamel, head of the Eurasia Group's Middle East and North Africa practice, said by phone, referring to the PUK. "I don't think he can win one. If he blames the PUK right now, and the PUK tries to be more aggressive, he's done. He's done in a concrete way."
The Iraqi push to retake territory widened a rift among Kurds that had been developing since the announcement of the referendum. The two sides had pushed aside years-old rivalries to oust Islamic State from some of its strongholds in Iraq.
'Peaceful Handover'
The U.S. did its best to play down the potential conflict between its Iraqi and Kurdish allies. "What we have seen is a peaceful handover of areas around Kirkuk," with the exception of one confrontation resulting from a "miscommunication," Army Colonel Ryan Dillon, spokesman for the U.S.-led coalition fighting Islamic State, said Tuesday in a briefing from Baghdad.
Coalition leaders have "urged all sides to avoid escalation," he said. "These tensions distract from our unified fight against" Islamic State.
Sinjar, in nearby Nineveh province, was retaken a day after Iraqi troops and their mostly Shiite militia allies recaptured predominantly Sunni Kirkuk, a city of 1 million whose oil wealth is vital to the Kurdish government in northeastern Iraq.
Iraqi forces also were able to retake disputed areas in Diyala province, "which were handed over to security forces in coordination with the Kurdish side," said Sadiq Al-Husseini, head of the province's security committee. "Areas were taken without any confrontation, with a high degree of coordination from the Patriotic Union of Kurdistan. Iraqi flags were hoisted in these areas."
The delicate balance between Kurdish factions that emerged following the U.S. overthrow of Saddam Hussein and years of Iraqi upheaval has been upended by last month's referendum and Baghdad's hostility to the move. Neighboring Iran and Turkey also opposed it, afraid it would embolden their own Kurdish minorities.
What Barzani is essentially doing is "trying to shift blame while maintaining peace" between the Kurds, Eurasia's Kamel said. In effect, he's acknowledging that Kirkuk has been lost, he said.

The conflict over Kirkuk undercut the alliance between Baghdad and the KRG that was forged to oust Islamic State from northern Iraq. It's also hit oil production. Output fell when two oil fields in the area halted production amid the military push -- a disruption that could affect output of 275,000 barrels a day, according to estimates compiled by Bloomberg.
Iraq-Kurd Clash Starts to Impede Oil Output at Kirkuk Fields (2)
In their advance on Kirkuk, Iraqi forces and the allied militias viewed with deep suspicion by the Kurds, took oil fields, a refinery and a military base from Kurdish control, according to state-run Iraqiya television.
Kurdish forces moved into Kirkuk as Iraq's army retreated in the face of the Islamic State's 2014 offensive. Baghdad demanded that the Kurds relinquish the city, saying it should be under joint administration. The Kurds resisted, seeing the area's oil deposits as a key financial lifeline.
— With assistance by Samuel Dodge, Kevin Costelloe, Hayley Warren, and Anthony Capaccio
Before it's here, it's on the Bloomberg Terminal.
LEARN MORE