Bombardier Held Talks With China Over C Series
By , , and
Chinese state-owned firms were interested in jet, people said

Bombardier reaches deal to sell majority stake to Airbus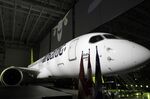 Bombardier Inc. discussed a potential sale of a stake in its C Series program with Chinese firms before reaching a pact with European giant Airbus SE, according to people familiar with the talks.
Airbus announced Monday it acquired a majority stake in the jet project for nothing, reshaping the airline sector amid a trade dispute with Chicago-based Boeing Co.
Bombardier had been in touch with a small group of Chinese state-owned enterprises about a C Series investment, according to two people familiar with the talks who asked not to be identified as the matter is private. The firms included Commercial Aircraft Corp. of China Ltd., one of the people said. Comac declined to comment on the Airbus deal and their media department said they weren't aware of any talks with Bombardier.
Mike Nadolski, a Bombardier spokesman, said the Montreal-based company wouldn't comment for this story as a matter of policy. Quebec Economy Minister Dominique Anglade, acknowledged other negotiations when asked if talks were held with China specifically.
"There were discussions, I can't get into details of private conversations, but I can tell you there were discussions, exchanges and at some point one has to decide and this is the option that has the most potential, the most growth for the C-series," said Anglade, whose government paid $1 billion for a C Series stake only to see it cut down by the Airbus deal.
'Most Interested'
"All that you could imagine was considered. At the end of the day, we chose the option that guaranteed jobs in the long term in Quebec, ensured growth of the sector in Quebec, and ensured the durability of the C-series program."
Representatives of China's State-owned Assets Supervision and Administration Commission didn't immediately respond to a faxed request seeking comment on Tuesday morning.
JPMorgan Chase & Co. analyst Seth Seifman said earlier Monday in a report that Comac is "the aero company that might be most interested," in Bombardier's aerospace assets. The Financial Times reported in May that Comac was interested in the C Series program. Robert Spingarn, an analyst at Credit Suisse Group AG, said Canada and China were "ideally aligned" for such a pact. Bombardier has been exploring various options for its aerospace assets as it continues to bleed cash.
Canadian Innovation Minister Navdeep Bains said the Airbus deal will mean more opportunities for Canada's aerospace sector.
"This is about Bombardier looking at a strategic partner," he told reporters in Ottawa Monday night. "We're going to make sure that we get the best outcomes for the aerospace sector; we get the best outcomes for the employees."
Canadian governments have long been supporters of Bombardier. The federal government pledged C$372.5 million ($297 million) in "repayable program contributions" for a pair of Bombardier jet programs earlier this year, including the C Series.  
The Quebec government bought a 49.5 percent stake in the C Series program for $1 billion in 2015. That stake had been reduced to 38 percent before the Airbus deal, and will be cut further to 19 percent with the Airbus partnership. The province received no direct compensation for the reduction under the Airbus agreement.
— With assistance by Ken Wills, and Dong Lyu
Before it's here, it's on the Bloomberg Terminal.
LEARN MORE