Balance of Power: Trump Pleads for Unity Under Bannon's Shadow
By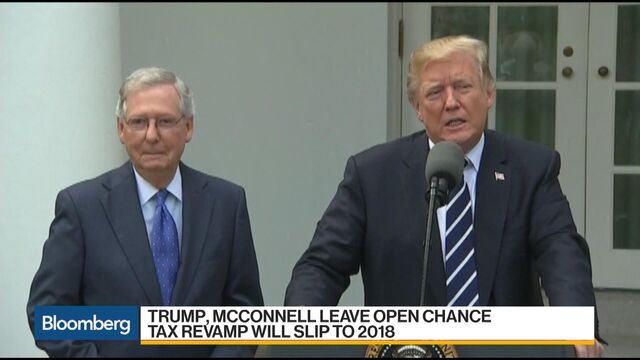 After all of Donald Trump's efforts to browbeat lawmakers, it's ousted White House strategist Steve Bannon that Republican senators — and the U.S. president himself — actually fear.
That was the signal Trump sent yesterday with an impromptu Rose Garden appearance alongside Senate Majority Leader Mitch McConnell in which the president urged an end to Republican infighting. Bannon responded by doubling his efforts to purge the Senate of McConnell supporters.
The bid by Trump and McConnell to smooth over past tensions demonstrates the depth of Republicans' fear that their promised tax overhaul will follow the attempted repeal of Obamacare onto the ash heap, leaving the party without a substantive legislative accomplishment and threatening House and Senate seats in next year's midterm elections.
A political action committee allied to Bannon yesterday endorsed anti-establishment candidates in Arizona and Wisconsin. A Bannon-backed upstart beat McConnell and Trump's preferred candidate in last month's Alabama primary runoff.
McConnell's got reason to be concerned about the schism given the events of 2010, when establishment candidates lost to Tea Party-backed challengers only to fall to Democrats in the general election.
As McConnell reminded Republicans yesterday, "The goal here is to win elections.''

Sign up to receive the Balance of Power newsletter in your inbox, and follow Bloomberg Politics on Twitter and Facebook for more.
Global Headlines
Fed sweepstakes | Stanford economist John Taylor made a favorable impression on Trump during an hour-long interview last week as the president seeks a Federal Reserve chair nominee. Former Fed board governor Kevin Warsh, meanwhile, has seen his star fade within the White House, Bloomberg reports. Trump plans to interview current chair Janet Yellen on Thursday. His chief economic adviser, Gary Cohn, and Fed governor Jerome Powell also are on the short list.
Catalan police sedition? |  Spain's National Court jailed two leading separatists and ordered the Catalan police chief to surrender his passport as part of an investigation into the campaign for independence. Officials in Madrid are ratcheting up the pressure on the Catalan government before a crucial deadline Thursday, which could see the region's autonomy suspended for the first time.
Brexit breakdown anxiety | Prime Minister Theresa May's last-minute push to break the Brexit stalemate fell short ahead of a key summit this week where the U.K. had hoped to shift talk to trade. Her dinner in Brussels with European Commission President Jean-Claude Juncker failed to move the needle and, as Bloomberg reports, the real fear for the government and businesses is the entire process could collapse by December, a prospect that caused the pound to dip.
Another North Korean hack? | A $60 million cyber-heist of Taiwan's Far Eastern International Bank this month bore the hallmarks of a prolific North Korean hacking group, BAE Systems Plc. researchers said yesterday. The latest demonstration of the isolated country's growing hacking prowess was revealed as Pyongyang's United Nations envoy slammed U.S.-South Korean joint military drills, warning that nuclear war "might break out any moment." 
Bombardier plot thickens | Airbus landed itself in the middle of a trade spat between Bombardier, in which it acquired a majority stake, and Boeing thanks to its effort to circumvent tariffs by adding a U.S. assembly line for Bombardier's C series program. After Boeing complained that Canada's Bombardier sold jets to Delta for "absurdly low prices," the Trump administration imposed import duties of 300 percent on the company, roiling U.S. relations with Canada and the U.K., where Bombardier makes the plane's wings.
Daphne Caruana Galizia, a 53-year-old journalist who led the investigation into corruption in her native Malta after the leak of the secret financial documents known as the Panama Papers, was killed yesterday in a car bombing near her home. So far there have been no claims of responsibility, but there's a suspicion she was murdered because of her reporting. "This is the darkest moment in the country's political history," opposition leader Adrian Delia said. "Nothing will remain the same."

Before it's here, it's on the Bloomberg Terminal.
LEARN MORE