Venezuelan Bonds Fall After Contested Regional Election Result
By and
Government claims 17 of 23 states; opposition cries fraud

Polls showed opposition was likely to win a majority of states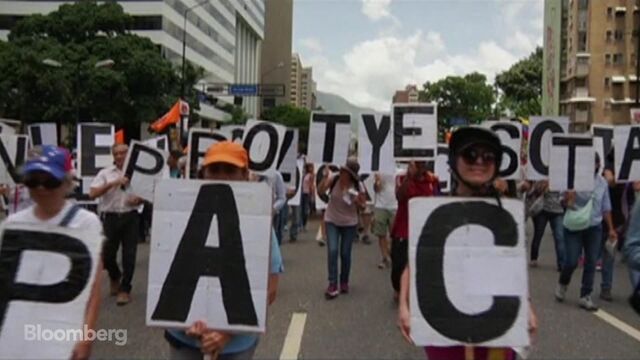 Venezuelan bonds tumbled after the government claimed a surprise victory in regional elections and the opposition cried fraud. The perceived foul play increases the risk of further sanctions against the oil producer.
The extra yield investors demand to hold Venezuelan debt over U.S. Treasuries widened 116 basis points to 32.32 percentage points, the highest in the world. A dollar bond issued by state-run oil company Petroleos de Venezuela SA that matures in two weeks fell 1.6 cent to 92.3 cents on the dollar.
"Doubts about the legitimacy of these results could generate backlash against the Venezuelan government domestically and abroad," Credit Suisse Group AG analysts led by Casey Reckman wrote in a report on Monday. "The opposition had said that they would call on its supporters to take to the streets to defend democracy and the votes that were cast. It is probably even less likely to engage in talks with the Maduro administration following this outcome."
Investors are losing faith in the ability of Venezuela to continue to service its debts as cash savings dwindle and payments become ever more complex while U.S. sanctions prompt banks and intermediaries to shy away or scrutinize dealings with the government of Nicolas Maduro -- himself sanctioned by Donald Trump's administration. The appearance of foul play in the election result will probably prompt more punitive action from Washington. The European Union is also prepared to begin discussing a collective response to Venezuela's increasing authoritarian regime.
The U.S. has already slapped individual government officials with sanctions that prevent them from traveling to the country and freezes any assets they may hold in the North American nation. The U.S. government also banned trading in any new securities that may be issued. For now, it's holding off on curbing oil imports or exports to Venezuela.
"Though we still consider it hard for the U.S. to ban crude imports from Venezuela and trading in all the Venezuela and PDVSA bonds, if concerns about such possibilities rise, they can do significant damage to Venezuela and PDVSA bonds," Victor Fu, director of emerging market sovereign strategy at Stifel Nicolaus & Co. wrote in a note.
The election results and threat of new sanctions add to concerns the market already had last week with a delay in receiving coupon payments due on PDVSA and state utility Electricidad de Caracas bonds, according to several bondholders who aren't authorized to speak publicly on their holdings. PDVSA's finance department hasn't returned email or phone messages seeking comment on the status of the payments.
PDVSA needs to pay $3.5 billion of coupons and principal in the coming weeks to remain current with its creditors. While PDVSA has decided to use grace periods in recent months to make interest payments, it won't have that luxury for the looming maturities.
Credit default swap trading reflects an 81 percent probability of PDVSA failing to pay its debts over the next 12 months with that likelihood rising to 99 percent with the five-year swaps contracts.
Quotes from this Article
Before it's here, it's on the Bloomberg Terminal.
LEARN MORE