Maduro Regime Acts as 'Authoritarian Dictatorship,' U.S. Says
By
State Department demands Venezuela provide for its people

Regional elections marred by accusations of fraud and trickery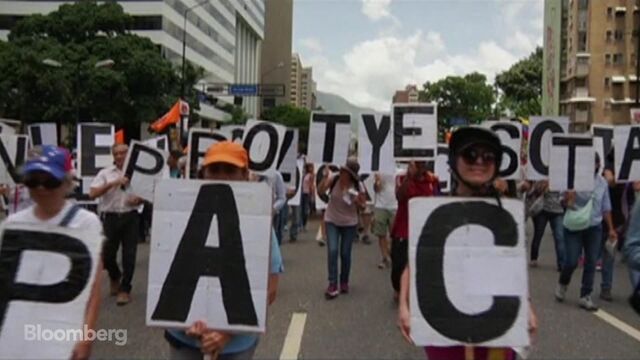 The U.S. State Department said Venezuela's gubernatorial elections, marred by accusations of fraud, were the exercise of a repressive regime.
The South America nation's government claimed wins in 17 of 23 contests Sunday, a showing that dramatically defied polls predicting widespread opposition gains. President Nicolas Maduro's administration relocated voting stations at the last minute, often forcing voters to drive long distances to dangerous areas, and held them open hours past their scheduled 6 p.m. closing.
"As long as the Maduro regime conducts itself as an authoritarian dictatorship, we will work with members of the international community and bring the full weight of American economic and diplomatic power to bear," Heather Nauert, a State Department spokeswoman, said in a news release Monday afternoon. "We continue to call on the regime to provide for the humanitarian needs of its people, respect the constitution and National Assembly, allow a true democratic process, and release all political prisoners."

Maduro called the long-delayed elections only after months of rioting, making a riposte to accusations that he's trying to end a six-decade democracy in a country once made prosperous by oil. Opposition supporters participated on hopes that a strong showing could usher in talks to end the grinding political and economic crisis. Now the regime's shock victories threaten to revive street violence that claimed more than 120 lives since April.
Polls widely predicted that the opposition would win the majority of the nation's states. But after the results were announced, a jubilant Maduro emerged to boast about the regime's wins and lay claim to the legacy of the late President Hugo Chavez and his socialist project.
"This only happens in Venezuela," Maduro said, flanked by his ministers. "And this is only done by Chavismo. Chavismo is alive, it's in the streets and victorious."
Government's Tale
Gerardo Blyde, mayor of a Caracas municipality and head of the opposition's campaign, said late Sunday that the alliance wouldn't accept the results. He called for a state-by-state audit and asked candidates to restart demonstrations.

"Neither Venezuela nor the world believes the story that's been told," he said in a news release.
The traditional announcement of the end of voting hours never occurred Sunday. But by 10:15 p.m., the National Electoral Council said it had counted 95.8 percent of the votes. The results were "irreversible" in 22 states, said Tibisay Lucena, its leader. One remained undecided.
Dimitris Pantoulas, a Caracas political consultant, said that the onus is on the opposition to prove the results were concocted.
"All of us think fraud happened, but they have to prove it," he said. "Once it happens, it's clear that Chavismo doesn't care anymore, and it's looking at a confrontation not only within Venezuela, but with the international community. That means sanctions and sanctions and sanctions."
A European Union working group will discuss possible sanctions at a meeting Tuesday, possibly outlining the scope of future measures, according to an EU official who requested anonymity because the deliberations are confidential.
Financial markets also reflected the election results early Monday. Dollar bonds issued by Venezuela and state-run oil company Petroleos de Venezuela SA fell in New York trading. Benchmark government notes due in 2027 dropped 0.7 of a cent to 38.5 cents. A PDVSA bond maturing in two weeks fell 0.8 cent to 93.1 cents on the dollar.

Balanced Repression
David Smilde, an analyst at the Washington Office on Latin America, a nonprofit research group that supports human rights, said the government had been moved by international isolation.
"They do care, otherwise they wouldn't have had an election," he said. "They had to thread the needle: They wanted international recognition on the one hand, but they want to keep power and keep the opposition under their thumb on the other."
Venezuela's two dominant blocs are difficult to reconcile. The opposition demands new presidential elections, the release of political prisoners and acceptance of humanitarian aid. Maduro's supporters want a continuation of social programs widely seen as unsustainable, and a foreign policy hostile to the U.S. and other nations it casts as imperialist.
Barren Shelves
But a dramatic crash in oil prices has left shelves empty and made hunger widespread. As the economy collapsed, so did Venezuela's medical and education systems -- and its democratic values. Maduro has convened a supreme body called the National Constituent Assembly to rewrite the constitution and ferret out enemies.
The government's hand was similarly heavy in organizing Sunday's vote.
The Electoral Council refused to remove unsuccessful opposition primary candidates from the roster, apparently in an attempt to confuse voters. Ballots with a dozen names contained as many as four who were no longer running.
And the agency last week abruptly relocated some 200 voting stations, with many in relatively well-off opposition areas moved to crime-ridden neighborhoods. Officials organized buses and carpools to transport voters to locations almost an hour away.
— With assistance by Fabiola Zerpa, Noris Soto, and Jonathan Stearns
Before it's here, it's on the Bloomberg Terminal.
LEARN MORE