U.S. Pushes 'Fair Trade' as Economic Talks With Japan Advance
By
Trump's top Cabinet members met with Japanese officials Monday

The White House aims to shrink America's trade gap with Japan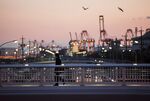 The Trump administration is advocating for a more balanced trade relationship with Japan as high-level economic talks with the Asian nation advance this week in Washington, according to Vice President Mike Pence.
Pence made the comments Monday during the U.S.-Japan Dialogue's second round of talks, which include discussions between White House Cabinet members and top Japanese government officials. Pence showed great interest in a free-trade deal at the talks, according to a Japanese government official in Washington, who decline to elaborate on the details.
A key component of the dialogue is "a common strategy on trade and investment rules and issues to ensure a free and fair trade relationship between our two nations," Pence said, sitting alongside Treasury Secretary Steven Mnuchin, Commerce Secretary Wilbur Ross and U.S. Trade Representative Robert Lighthizer.
The two countries created the dialogue in February and held their first round of discussions in April. The two sides made initial progress in the second round of talks, including an agreement to lift restrictions on Japanese persimmons and Idaho potatoes, according to a joint statement on Monday's negotiations. They also made some advances on the automobile industry, with Japan agreeing to streamline noise and emissions testing for American car exports. 
Both nations will make an announcement soon on energy issues, including liquefied natural gas and coal, according to the statement. There was no discussion of foreign exchange at the talks, according to a Japanese government official.
President Donald Trump has long railed against America's mercantile trade deficit with Japan, which is second only to its gap with China given its massive imports of Japanese cars and electronics. The president has voiced a preference for pursuing bilateral trade deals to shrink trade imbalances rather than multilateral pacts, such as the Trans-Pacific Partnership accord that he walked away from soon after entering office.

Trump is scheduled to meet with Japan's Prime Minister Shinzo Abe during a trip to Asia in early November, when the issues of trade and economic ties are sure to come up. The Japanese delegation on Monday stressed the importance of U.S. and Japanese diplomatic relations, especially amid the risks posed by Pyongyang's missile and nuclear programs.
'Urgent Threat'
"North Korea poses unprecedented, urgent threat, increasing the importance of the U.S.-Japan alliance that's the foundation of the peace and prosperity in Asia Pacific region," Japanese Deputy Prime Minister Taro Aso said in Washington after Pence spoke. Masatsugu Asakawa, the chief of foreign exchange policy at Japan's Finance Ministry, also attended the meeting.
Many U.S. businesses are eager to strike a bilateral deal with Japan after withdrawing from the TPP, which would have lowered a range of Japanese tariffs. American industry representatives say the lack of a pact with Japan puts U.S. companies at a disadvantage to other countries such as Australia that have an agreement in place.
Tokyo still hopes to convince the U.S. to return to the TPP, which was negotiated over several years. Japan also wants to use the talks to advance cooperation on trade and investment rules, including Japanese investment in U.S. energy and infrastructure.
— With assistance by Connor Cislo, Maiko Takahashi, and James Mayger
Before it's here, it's on the Bloomberg Terminal.
LEARN MORE