U.S. Seeks End of Canada Dairy System as Latest Nafta Talks Wrap
By
Canadian figures began warning of 'non-starters' on Monday

Lighthizer, Freeland, Guajardo to meet in Washington today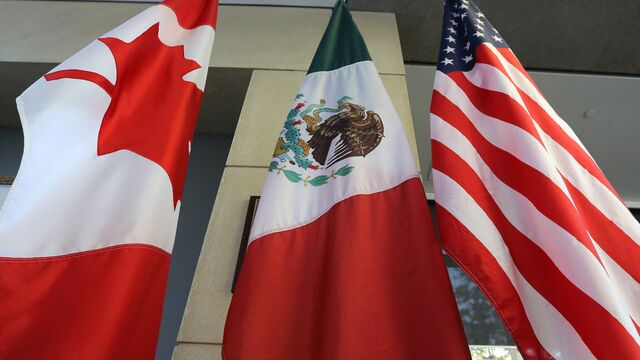 The U.S. wrapped up the fourth round of Nafta trade talks with a bombshell proposal to dismantle Canada's dairy sector, adding to a list of demands its trading partners say would be impossible to accept as negotiations grow more fraught.
The proposal delivered Sunday would effectively kill Canada's so-called supply management system by fully eliminating tariffs on supply-managed products over 10 years, according to two officials familiar with the measures, speaking on condition of anonymity. The basics of the proposal were later confirmed by U.S. officials. Supply management is a system of quotas and tariffs for milk and other products that Canadian officials argue avoids oversupply and guarantees stable pricing and production. President Donald Trump has called the system "unfair" to U.S. farmers as he threatens to back out of Nafta.
The proposal comes as warnings mount that the U.S. will have to water down demands -- on automotive content, dispute panels, government procurement and a sunset clause -- if it wants a deal. Meanwhile, the Canadian tone has grown decidedly more pessimistic over the past week, as frustration grows and begins to mirror that of Mexico, long a more public target of Trump. Talk of mere Nafta "tweaks" are long gone.
The U.S. demands "seem to be so extreme, one really has to ask the question whether President Trump wants to have a Nafta," John Weekes, the former lead Canadian negotiator for the original pact who is now a senior business adviser at law firm Bennett Jones LLP, said in Washington Monday at a Council on Foreign Relations event. "Or is he looking for an excuse to get out of it?"
Canada's government flatly dismissed the U.S. dairy proposal, while the Dairy Farmers of Canada called it "outrageous." U.S. Trade Representative Robert Lighthizer, Canadian Foreign Minister Chrystia Freeland and Mexican Economy Minister Ildefonso Guajardo will meet in Washington on Tuesday, and are scheduled to speak publicly afterwards.
'Non-Starter'
John Melle, the lead U.S. Nafta negotiator, confirmed in an emailed statement Monday the U.S. requested greater access to Canada's market for dairy, poultry and eggs, "with the goal of expanding export opportunities for U.S. farmers." The Canadians have long rejected changes to supply management -- a stubborn trade irritant -- with Agriculture Minister Lawrence MacAulay once again backing the status quo on Monday.
"It's a model for the world, and that's in fact where we are. To deal with anything else is simply a non-starter," he told reporters. "We need a 'right' deal, and we're not going to sign any deal." Canadian Trade Minister Francois-Philippe Champagne called the proposal "obviously unacceptable" to Canada. "I don't know if they're going to change their mind but I can tell you we won't change our mind," he said.
Mexico will not accept the contentious U.S. proposals unless they are watered down, said Antonio Ortiz Mena, a former head of economic affairs at Mexico's U.S. embassy.
"I don't believe they will accept Nafta at any price, so it would be very dangerous to engage in this brinkmanship tactic," Ortiz-Mena, who is now a senior vice president of Albright Stonebridge Group, said while speaking at the same Washington event on Monday. "The U.S. will have to decide whether to make its positions more flexible, or to withdraw."
Other Warnings
Michael Froman, who served as the U.S. Trade Representative under the Obama administration, urged people to treat the U.S. demands as opening offers. "It is a negotiation, I don't think one should look at the strength of the proposals themselves and draw any particular conclusion," he said in Washington at the same event.
Warnings echoed out of Canada on Monday. Ontario Premier Kathleen Wynne, whose province is home to most of the country's auto sector, said Canada's vehicle "industry cannot tolerate such extreme, punitive measures, divorced as they are from the economic reality of an integrated continental auto sector operating in a fiercely competitive global economy."
Dennis Darby, head of the Canadian Manufacturers and Exporters industry group, said after a private briefing with Freeland on Monday that the minister remained optimistic -- but Darby also used the term "non-starter" in describing a pair of U.S. proposals on autos and a sunset clause. "She didn't speculate on whether it was going off the rails, just that we were in really, really hard negotiations right now," Darby said in a telephone interview.
Roberto Azevedo, director-general of the World Trade Organization, met with Lighthizer on a visit to Washington and said Monday the world needs a continued push for multilateral trade.
"Turning against trade alone is not going to help it, is not going to solve it. In fact it may make things worse," he said in Washington. "I don't think is a U.S. phenomenon. I think this is a global phenomenon."
— With assistance by Greg Quinn
Before it's here, it's on the Bloomberg Terminal.
LEARN MORE