Settlement May Scuttle Securities-Fraud Clash at Supreme Court
By
Leidos, investors say they have a settlement in principle

Argument scheduled for Nov. 6 in shareholder-report dispute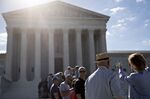 The U.S. Supreme Court may drop a scheduled securities-fraud clash after the two sides told the justices they are near a settlement.
The high court is scheduled to hear arguments Nov. 6 in a case stemming from a New York City contract fraud and Leidos Inc.'s $500 million settlement with the city in 2012. The case asks the court to clarify investors' ability to sue companies for omitting information from shareholder reports.
In a joint filing Oct. 6, Leidos and a group of investors who sued the company asked the court to drop the case from its argument calendar while they finalize the settlement and seek approval from a federal trial judge. The two sides said they have an "agreement in principle."
Leidos, formerly known as Science Applications International Corp., was hired by New York City to overhaul its payroll systems. In the 2012 accord, the company admitted it failed to investigate claims that a manager of the CityTime payroll project directed staffing tasks to a single subcontractor in exchange for kickbacks.
Investors, led by the Indiana Public Retirement System, claim Leidos should have disclosed its possible liability in its annual report filed in March 2011. A federal appeals court in New York let the suit go forward.
At issue is a Securities and Exchange Commission provision known as Item 303, which requires companies to disclose trends and uncertainties that could affect their business. Lower courts disagree on whether a violation of Item 303 is enough to let investors sue for securities fraud. 
Leidos argues in its appeal that investors must also show that the omitted information was necessary to correct a misimpression created by another statement the company had made.
The case is Leidos v. Indiana Public Retirement System, 16-581.
Before it's here, it's on the Bloomberg Terminal.
LEARN MORE