Hong Kong's Fifth-Tallest Tower Sells for Record $5.15 Billion, Economic Journal Says
By
Chinese-led group buys The Center, Economic Journal reports

73-story building in Central district is city's fifth-tallest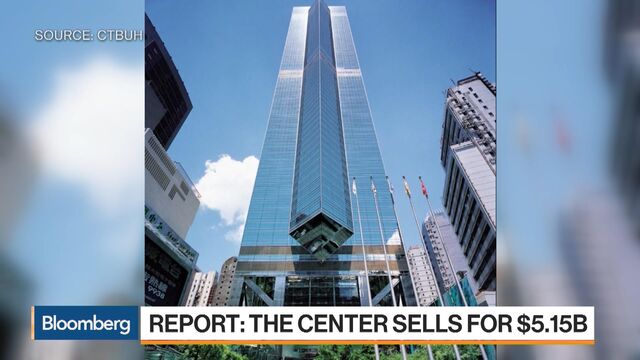 Li Ka-Shing's CK Asset Holdings Ltd. sold its 75 percent holding in The Center to a Chinese-led group for HK$40.2 billion ($5.15 billion), a record for a Hong Kong office tower, the Hong Kong Economic Journal reported.
The deal will be announced in the near future, the Economic Journal reported, without saying where it got the information. Some domestic investors are also part of the consortium, the newspaper said. Representatives at CK Asset didn't immediately return calls seeking comment.

CK Asset shares rose as much as 3.2 percent in early trading, and were up 2.4 percent to HK$66.35 at 9:57 a.m. Hong Kong time.
The deal is the latest to signal Hong Kong's red-hot property market shows no signs of slowing down. LVGEM (China) Real Estate Investment Co. last week announced the HK$9 billion purchase of a building from Wheelock & Co. a record per-square-foot price for a commercial building in Hong Kong's Kwun Tong area.

Earlier this year, Henderson Land Development Co. paid HK$23.3 billion for the first commercial land to be sold by the government in the Central district in more than 20 years.
For CK Asset, which recently changed its name from CK Property, the proceeds would give the company funds to diversify away from its main real-estate business. CK Asset and affiliate CK Infrastructure Holdings Ltd. earlier this year agreed to buy a German maker of smart meters for about 4.5 billion euros ($5.3 billion), building on the company's expansion in infrastructure and energy.
73-Story Tower
CK Asset's properties, which include the Cheung Kong Center and Hutchison House, spanned about 17 million square feet (1.6 million square meters) as of June, with more than 80 percent located in Hong Kong, according to the company.

The 73-story building in the Central business district is the city's fifth-tallest, according to the Skyscraper Center. Hong Kong's skyscrapers command the highest rents in the world, according to a report last month from Knight Frank, which said rental costs are more than four times higher than in Singapore. Rental growth will continue to be robust on an influx of mainland Chinese tenants, Knight Frank said.
News involving the sale of The Center has been trickling out for at least a year, with the Hong Kong Economic Journal saying last year that ICBC Asia approached CK Asset about buying the stake in the tower for HK$34.8 billion. At the time, ICBC denied the report, saying it didn't engage in talks nor purchase the stake.
— With assistance by Dominic Lau, Frederik Balfour, Young-Sam Cho, and Fion Li
Before it's here, it's on the Bloomberg Terminal.
LEARN MORE