business
China's Factory Inflation Rebounds Amid Capacity Cuts
Bloomberg News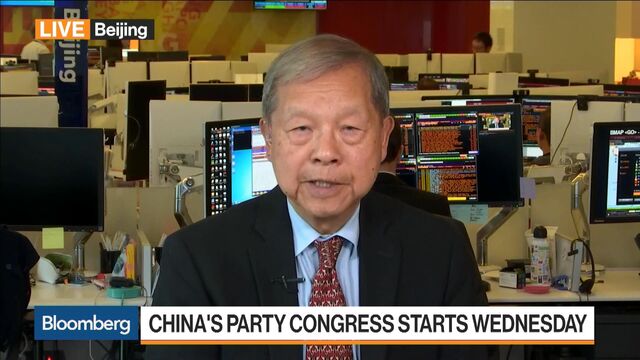 China's factory prices jumped more than estimated, as domestic demand remained resilient and the government continued to reduce excess industrial capacity. Consumer price gains matched projections.
Key Points
The producer price index rose 6.9 percent in September from a year earlier, versus an estimated 6.4 percent in a Bloomberg survey and a 6.3 percent August reading
The manufacturing PPI sub-index climbed 7.3 percent, the most in nine years
The consumer price index climbed 1.6 percent, versus a prior reading of 1.8 percent, the statistics bureau said Monday

Big Picture
Aggressive cuts to capacity in industries like steel and cement, coupled with resilient demand, have contributed to factory inflation that's lasted longer than economists expected. The drive to cut pollution and boost firms' efficiency will probably continue as the Communist Party begins its 19th Congress this week.
Economist Takeaways
"The economy has pretty strong momentum now, monetary policy remained loose ahead of the 19th Party Congress, and the environmental cleanup has cut the supply of commodities," said Shen Jianguang, chief Asia economist at Mizuho Securities Asia Ltd. in Hong Kong and the lone forecaster in Bloomberg's survey to correctly predict the PPI reading. "But this is not sustainable. Deleveraging will be moving up on the agenda after the congress."
"Strong PPI shows that economic momentum is pretty robust in the second half," said Liu Xuezhi, an analyst at Bank of Communications Co. in Shanghai. "It was widely expected that factory-gate inflation could slow in the second half, but apparently it's still quite resilient, which may lead to a more positive outlook."
"China's manufacturing industry, upstream in particular, continues to see decent demand," said Raymond Yeung, chief Greater China economist at Australia & New Zealand Banking Group Ltd. in Hong Kong. "This PPI figure foretells a decent growth number to be out later this week. We see GDP of 6.8 percent at the moment but should be prepared for an upside risk."
"Weak CPI means the PBOC has no pressure in pushing up policy interest rates, and perhaps gains a little bit more tolerance towards the softening rates in the interbank market," said Tao Dong, vice chairman for Greater China at Credit Suisse Private Banking in Hong Kong. "This doesn't change the tune of financial deleveraging in China. With the Party Congress being concluded soon, I would expect a modest yet persisting deleveraging."
Bloomberg Intelligence
"September data showed China's consumer and producer prices diverging," Tom Orlik, chief Asia economist at Bloomberg Intelligence in Beijing, wrote in a report. "Commodity prices buoyed factory gate inflation. Falling food prices dragged on the consumer price gauge." 
The Details
Producer prices for raw materials increased 11.9 percent, picking up from 11 percent in August and posting the biggest gain since April
Core CPI increased to 2.3 percent, the fastest pace since 2011
Prices for consumer goods rose 0.7 percent while those for services added 3.3 percent
— With assistance by Xiaoqing Pi, Miao Han, Kevin Hamlin, Yinan Zhao, and Ailing Tan
Before it's here, it's on the Bloomberg Terminal.
LEARN MORE