Senator Calls on Ivanka Trump to Cut Ties to World Bank Women Fund
By
Trump's clothing business could benefit from role, Cardin says

Dual tasks creates "potential for conflicts of interest'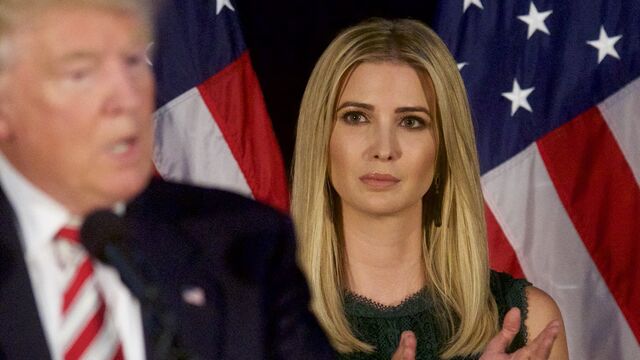 Ivanka Trump should cut ties with a World Bank fund focusing on women's empowerment, an initiative the U.S. president's daughter has championed, because her clothing brand may benefit from her involvement, Senator Ben Cardin said in a letter to Treasury Secretary Steven Mnuchin.
Cardin, a Maryland Democrat, wrote that Trump, who serves as an unpaid senior adviser to her father, President Donald Trump, is barred from using her office for private gain and her link to the initiative could expose it to allegations of conflict of interest.
"I believe it would not be appropriate for her to serve as a public advocate for the fund," Cardin wrote in the letter dated Oct. 16. "As long as Ms. Trump continues to benefit financially from a brand that bears her name, her involvement with WeFi creates the potential for conflicts of interest that could stand in the way of achieving the fund's goals."
The White House didn't immediately respond to a request for comment.
The World Bank unveiled the Women Finance Entrepreneurship Financing Initiative, or We-Fi, on Oct. 12. Ivanka Trump spoke at the event for the initiative two days later, saying she would serve as a mentor in the program. President Trump has announced the U.S. will contribute $50 million to the fund.
"I'm very proud of Ivanka, who has been a forceful advocate for landmark women entrepreneurs," Trump said in July when he announced the contribution in Hamburg. "And she worked very hard for the women entrepreneurs finance initiative."
Ivanka Trump said in January she was handing day-to-day management of her brand to a top lieutenant but declined to divest from her brand when she formally joined the White House in March.
In an Oct. 12 interview with Bloomberg TV, World Bank President Jim Yong Kim said the financing program has raised $350 million so far.
— With assistance by Jennifer Epstein
Before it's here, it's on the Bloomberg Terminal.
LEARN MORE