Angry Birds Franchise Keeps Trooping on Thanks to Iron Maiden
By
Rovio Entertainment valued at about $1 billion in IPO

Revenue from computer games exceeded $100 billion globally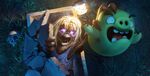 Angry Birds maker Rovio Entertainment Oyj, valued at about $1 billion in last month's initial public offering, is now plugging English heavy metal pioneers Iron Maiden in its latest effort to increase the longevity of its main franchise.
Rovio Entertainment listed in late September and the company's valuation fell short of earlier expectations. The Finnish game studio remains reliant on the Angry Birds franchise seven years after the game's debut, and is faced with a challenge to update its various titles with features and content to keeps players hooked.
"We've kind of learned how to push the limits of the brand," Miika Tams, Rovio's product lead for Angry Birds Evolution, said in an interview in London, noting a new featured bird character with a pentagram symbol.
After an initial spike, Rovio's stock is little changed from its initial pricing of 11.50 euros after the first two weeks of trading in Helsinki.
Revenue from computer games exceeded $100 billion globally in a single year over 2016 for the first time, according to a report published by London-based venture capital firm Atomico. Successful mobile game franchises have also been at the center of sizable deals. Chinese Internet giant Tencent Holdings Ltd acquired League of Legends developer Riot Games Inc, and led the acquisition Supercell Oy -- the maker of Clash of Clans -- for $8.6 billion in 2016.
To read Gadfly's piece about the risks of an Angry Birds IPO, click here
However, game studios such as Rovio need a steady conveyor belt of ways to get its players to spend more. Several incarnations of Iron Maiden's mascot Eddie will feature in free-to-play Angry Birds Evolution, which will include a complete visual overhaul and four songs by the band, with plans to sell T-shirts and other related merchandise timed to celebrate Halloween, according to Tams. The partner was a "natural fit" as the development team is full of Iron Maiden fans, Tams said.
Rovio has already spun out a Star Wars franchise, as well as a feature film released last year. A sequel to the movie, which made almost $350 million in worldwide box office, is planned for 2019.
Chief Executive Officer Kati Levoranta recently told Bloomberg that -- due to the IPO -- the company is in a "great position" to grow further with a strong brand and large player base, and that it was eyeing potential acquisitions.
"This is one way to surprise the audience, which we're always striving to do," Tams said. "After this, it'll be an interesting challenge to figure out what to do next."
Before it's here, it's on the Bloomberg Terminal.
LEARN MORE