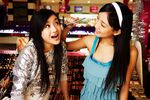 Since they started breaking into the Chinese cosmetics market several decades ago, foreign beauty brands have been presented with a damned-if-you-do, damned-if-you-don't problem.
Driven by activism from animal welfare groups, companies such as L'Oreal SA's Body Shop have been trying to reassure consumers their makeup, skin creams and soaps aren't tested on animals. At the same time, regulations in China -- now the world's largest cosmetics market, according to Morgan Stanley -- effectively mandate animal testing on a vast array of products.

The result has been the sort of awkward, evasive statements that you can read on beauty companies' websites:
The Estée Lauder Companies does not test on animals and we never ask others to do so on our behalf. If a regulatory body demands it for its safety or regulatory assessment, an exception can be made. 
Or this, from AmorePacific Corp.:
We have voluntarily discontinued animal testing on cosmetic ingredients and finished goods since 2008. And as of May 1, 2013, will expand the non-animal testing policy to our suppliers...

*Exceptions to this principle will apply however, if animal testing is required or bound by local governments or laws.
In 2014, China lifted testing requirements on everyday personal care products, but the mandate remains on so-called "special use" cosmetics. Unfortunately for manufacturers, that category includes many of their most profitable and innovative lines, including hair dye and hair removal products, sunscreens, skin lightening creams and deodorant.
There are tentative signs this stalemate may be starting to crack. In January, new regulations were passed letting foreign firms bring non-special-use cosmetics to market more quickly if imported via the Shanghai Pudong Free Trade Area, in a small step toward harmonizing Chinese rules with those elsewhere.
Earlier this month, further changes were announced allowing data from overseas clinical trials to be used in registering pharmaceuticals for the local market, upending red tape that had previously required drugmakers to conduct separate tests in China. A similar reliance on offshore standards in relation to cosmetics would likely obviate the need for government-run tests on animals.
To be sure, foreign companies haven't been seriously impeded by the regulatory gap, accounting for as much as 90 percent of revenue in China's cosmetics market. Procter & Gamble Co., L'Oreal, Shiseido Co. and Unilever NV have for years been dominant in China's personal care sector, regardless of any qualms about animal testing. Ethical concerns aren't quite as decisive in the industry as Pamela Anderson or the late Anita Roddick might have liked: For instance, snail slime has become one of the must-have skincare products in recent years in spite of objections from animal welfare groups.

Even so, a more open and humane trade regime in China can't come too soon, especially as other countries like Australia and South Korea move toward animal testing bans.
Foreign brands have been losing ground to local heroes in recent years, according to Kantar Worldpanel data. Shanghai Chicmax, Shanghai Pehchaolin, and Jala drove Estee Lauder, Amway Corp., Beiersdorf AG and Johnson & Johnson out of China's top 10 personal care brands between 2012 and 2016, according to Euromonitor. The efforts of overseas brands to compete with this onslaught can't have been helped by the tricky line they've had to walk between pleasing Chinese and international consumers.
Investors should closely watch for signs that the last bastions of China's testing regime are falling. When animals are no longer in the firing line as collateral damage, the fight for the world's largest beauty market will begin in earnest.
Before it's here, it's on the Bloomberg Terminal.
LEARN MORE