Bombardier Is Exploring Options for Its Aerospace Businesses
By , , and
Company is studying sale of lines such as Q400, people say

Airbus is said to be among suitors in early stages of review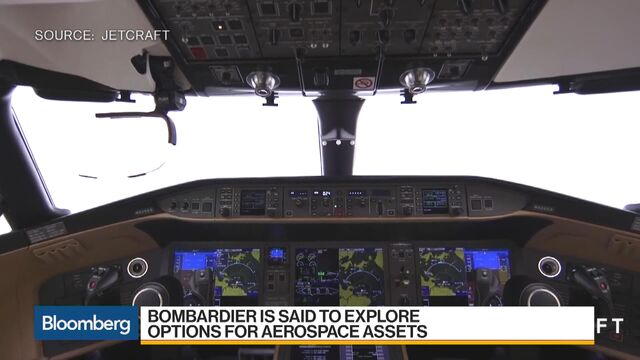 Bombardier Inc. is seeking investors or buyers for parts of its aerospace business, people familiar with the matter said, as a turnaround plan at the Canadian planemaker faces pressure from potentially crippling U.S. tariffs on its marquee jetliner.
The Montreal-based manufacturer is studying the disposal of assets including its Q400 turboprop and CRJ regional-jet unit, said the people, who asked not to be identified because the discussions are private. Airbus SE is among the suitors, they said, with one person saying Bombardier is also open to partnerships with other aerospace companies.
Chief Executive Officer Alain Bellemare is trying to stop a cash drain after its C Series jetliner came to market more than two years behind schedule and about $2 billion over budget. Asset sales or investment deals in aerospace would raise money as Bombardier contends with newly imposed U.S. import duties of 300 percent on the plane. Bombardier also missed out on a merger of its rail-equipment business with Siemens AG's operation after months of talks. 
Deals on the Q400 or CRJ may add life to languishing products. The entire segment of regional aircraft, which seat between 50 and 90 people, garnered only 119 orders last year, down 50 percent.
'Neglected' Products
"Bombardier has neglected these products for so long," said Richard Aboulafia, an aerospace consultant at Teal Group. "These should be worth more and should be more desirable," he said, adding that the Q400 may have an easier time finding a buyer than the CRJ line.
The shares advanced 2.2 percent to C$2.37 at 11:47 a.m. in Toronto. Bombardier rose 6.9 percent this year through Oct. 13, twice the gain of Canada's benchmark S&P/TSX Composite Index.
Bombardier's $1.2 billion in 6 percent notes due in 2022 slid 1.9 cents on the dollar to $96.875, according to Trace, the bond-price reporting system of the Financial Industry Regulatory Authority.
The turboprop and regional jet markets are largely duopolies, partly controlled by Bombardier. The Q400 competes with planes made by ATR, which is owned by Airbus and Leonardo SpA, while the CRJ jets go head to head with aircraft built by Brazil's Embraer SA.
Bombardier is looking to break into the market for bigger narrow-body jets with the C Series, but delays and cost overruns prompted the company to accept a $1 billion investment from Quebec, plus another C$372.5 million ($300 million) in "repayable program contributions" from Canada. The company's Global 7000 business jet has also been delayed.
'Long Way'
Bombardier and Airbus, whose earlier talks on a potential business collaboration fizzled in 2015, declined to comment. No final decisions have been made and Bombardier deliberations with potential partners may not lead to any transactions, the people said.
"Bombardier has said in the past they will look at maximizing value where it makes sense," Cameron Doerksen, an analyst at National Bank Financial Inc., said in an interview. "Whether this actually happens, we're a long way away from that."
The U.S. Commerce Department recently imposed 300 percent tariffs against the C Series, saying Bombardier sold the narrow-body plane at less than its fair-market value after receiving government subsidies in Canada. The agency's decision followed a complaint by Boeing Co. after Bombardier sold at least 75 of its planes to Delta Air Lines Inc., a deal valued at more than $5 billion based on list prices.
The company got about 57 percent of its revenue from aircraft and aerospace parts last year.
Margin Issues
The rail business has also raised funds in recent years. In 2015, Bombardier sold a stake in the unit to Caisse de Depot et Placement du Quebec, Canada's second-largest pension fund manager, for $1.5 billion. Last month, Siemens chose France's Alstom SA as its merger partner in rail equipment, leaving Bombardier on its own to face the new European giant and Asian heavy hitters such as China-based CRRC Corp. and Hitachi Ltd. of Japan.
Bellemare has long talked about the need for Bombardier to improve margins of the Q400, which has lost market share in recent years to lighter, cheaper turboprops made by ATR. Bombardier is looking to move production of wings and cockpits for the Q400 outside of Canada to reduce costs, Vice President Todd Young said last month at a press briefing in Mirabel, Quebec.
Colin Bole, a senior vice president of sales at Bombardier's commercial aircraft unit, said at the same press briefing that the company has "a tremendous number of Q400 campaigns in the pipeline globally and we certainly intend to crystallize those in the next few months."
"I think you will see a dramatic change in the backlog," Bole said.
— With assistance by Benjamin D Katz, Ruth David, Annie Massa, Ed Hammond, Aaron Kirchfeld, and Julie Johnsson
Before it's here, it's on the Bloomberg Terminal.
LEARN MORE