U.S. Sanctioning Iran's Revolutionary Guard Corps, Trump Says
By and
Former agency official says latest action 'wouldn't do much'

Iran warned in advance it would retaliate for any U.S. move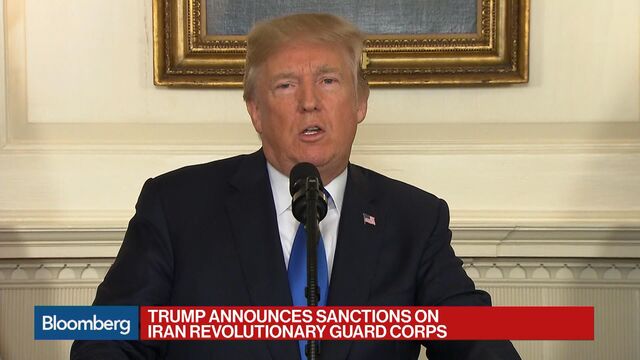 While President Donald Trump said in his White House speech on Iran policy that the U.S. is imposing new sanctions on its Islamic Revolutionary Guard Corps, it wasn't clear how far-reaching the latest move will prove to be.
"I am authorizing the Treasury Department to further sanction the entire Islamic Revolutionary Guard Corps for its support for terrorism, and to apply sanctions to its officials, agents and affiliates," Trump said Friday at the White House. "I urge our allies to join us in taking strong actions to curb Iran's continued dangerous and destabilizing behavior."
The Treasury Department said in a statement that it was labeling the Revolutionary Guards, a hard-line military and political force in Iran, a supporter of terrorism for backing the Quds Force, which conducts operations outside Iran's borders. The Quds Force already bears Treasury's terrorist designation.
But the Trump administration stopped short of adding the Revolutionary Guards to the State Department's more far-reaching roster of foreign terrorist organizations.
The latest designation from Treasury "wouldn't do much," said Katherine Bauer, fellow with the Washington Institute for Near East Policy, because the Guard Corps is already subject to sanctions under authorities on human rights and weapons of mass destruction authorities.
Read More: A QuickTake Q&A on How Trump Wants to Rebuild the Iran Deal
"This action does not have any new sanctions implications," said Bauer, who was a senior policy adviser on Iran in the Treasury Department's Office of Terrorist Financing and Financial Crimes during the Obama administration.
The Islamic Revolutionary Guard Corps was already "pretty sanctioned-up at this juncture, as are individuals connected to the ballistic missile program," said Sanam Vakil, an associate fellow at Chatham House's Middle East & North Africa Program in London.
Still, Treasury's latest terrorism designations may "send a very strong signal" to businesses and governments that might otherwise cooperate with the Revolutionary Guards, said Michael Singh, managing director of the Washington Institute, who was senior director for Middle East affairs at the National Security Council under President George W. Bush.
Iran's Warning
At the very least, the designation is sure to spark protests from Iran.
The Revolutionary Guards and the Iranian people stand side-by-side to defend their country from attacks, President Iranian President Hassan Rouhani said after Trump's speech.
Shortly before the American president spoke, the Iranian Foreign Ministry said in a statement quoted by Press TV that "any move against the Armed Forces of the Islamic Republic of Iran, including the Islamic Revolutionary Guard Corps, will be met with Iran's fitting and strong response."
Revolutionary Guards commander Mohammad Ali Jafari suggested this week that U.S. military bases in the region could become a target for retaliation.
"As we've announced in the past, if America's new law for sanctions is passed, this country will have to move their regional bases outside the 2,000 kilometer (1,243-mile) range of Iran's missiles," Jafari said on Oct. 8, according to state media.
— With assistance by Golnar Motevalli
Before it's here, it's on the Bloomberg Terminal.
LEARN MORE