Mueller Interviews Reince Priebus in Russia Investigation
By
Reince Priebus's lawyer says interview was voluntary

'He was happy to answer all their questions,' lawyer says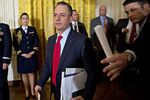 President Donald Trump's former chief of staff, Reince Priebus, was interviewed today by Special Counsel Robert Mueller, his lawyer Bill Burck said.
"It was a voluntary interview. He was happy to answer all their questions," Burck said by phone. He declined to elaborate.
Mueller is probing Russian interference in the 2016 election and whether there was collusion between Trump's campaign and Vladimir Putin's government. One event Mueller is examining is Trump's firing of former FBI Director James Comey in May, when Priebus was chief of staff. Trump replaced Priebus in July with John Kelly.
In addition to Priebus, Mueller is expected to interview Trump's former press secretary, Sean Spicer; James Burnham, an associate in the White House counsel's office; and possibly Josh Raffel, a spokesman for Jared Kushner, a person familiar with the investigation said last month.
White House Counsel Don McGahn is also represented by Burck. Communications Director Hope Hicks has hired her own lawyer.
White House lawyer Ty Cobb is clearing through a backlog of requests from Mueller for documents and information from the Trump administration, according to two people familiar with the investigation. Cobb has said he's hoping the investigation can be concluded by the end of the year.
Before it's here, it's on the Bloomberg Terminal.
LEARN MORE