Moderate Republican Susan Collins Decides Against Leaving U.S. Senate
By
Collins says much needs to be done in a divided Washington

Staying in Senate is the 'best way' to contribute, she says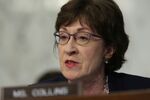 Senator Susan Collins of Maine said Friday she has decided against running for governor next year, ending the prospect that one of the chamber's last Republican moderates will leave Washington anytime soon.
"I want to continue to play a key role in advancing policies that strengthen our nation," Collins, 64, said at a breakfast speech before the Penobscot Regional Chamber of Commerce in her home state.
Collins said the U.S. needs to deal with stagnant wages, expensive health care and a nuclear-armed North Korea, and said, "I have concluded that the best way that I can contribute to these priorities is to remain a member of the United States Senate."
At a time when Republicans govern the chamber with a slim 52-48 majority, Collins has been a swing vote on issues including health care, taxes and gun control. She has had little to say so far on a tax-overhaul plan unveiled by the White House and Republican tax committee leaders, a debate likely to underscore her influence.
Her decision to remain in Congress comes as some lawmakers on both sides of the aisle are concerned about a possible exodus of party moderates. Other independent-minded Republicans, including Senator Bob Corker of Tennessee and Representative Charlie Dent of Pennsylvania, have announced they won't seek re-election. Like Collins, they have been increasingly at odds with President Donald Trump.
Collins's willingness to buck her party has been on display through much of this year. She was one of three Republicans -- along with Lisa Murkowski of Alaska and John McCain of Arizona -- to vote down a GOP replacement of the Affordable Care Act.
Earlier this year, Collins was the only Republican senator who voted against Trump's choice of Scott Pruitt for Environmental Protection Agency administrator. She and Murkowski were the only two Republicans who opposed Betsy DeVos for education secretary.
Senate Majority Leader Mitch McConnell of Kentucky praised Collins after her announcement. "She brings conviction, smarts and leadership to every issue," he said in a statement. "Her decision to remain in the Senate is important not only for the people of Maine, who she serves so well, but for the nation as a whole."
Collins's term ends in January 2021.
Before it's here, it's on the Bloomberg Terminal.
LEARN MORE