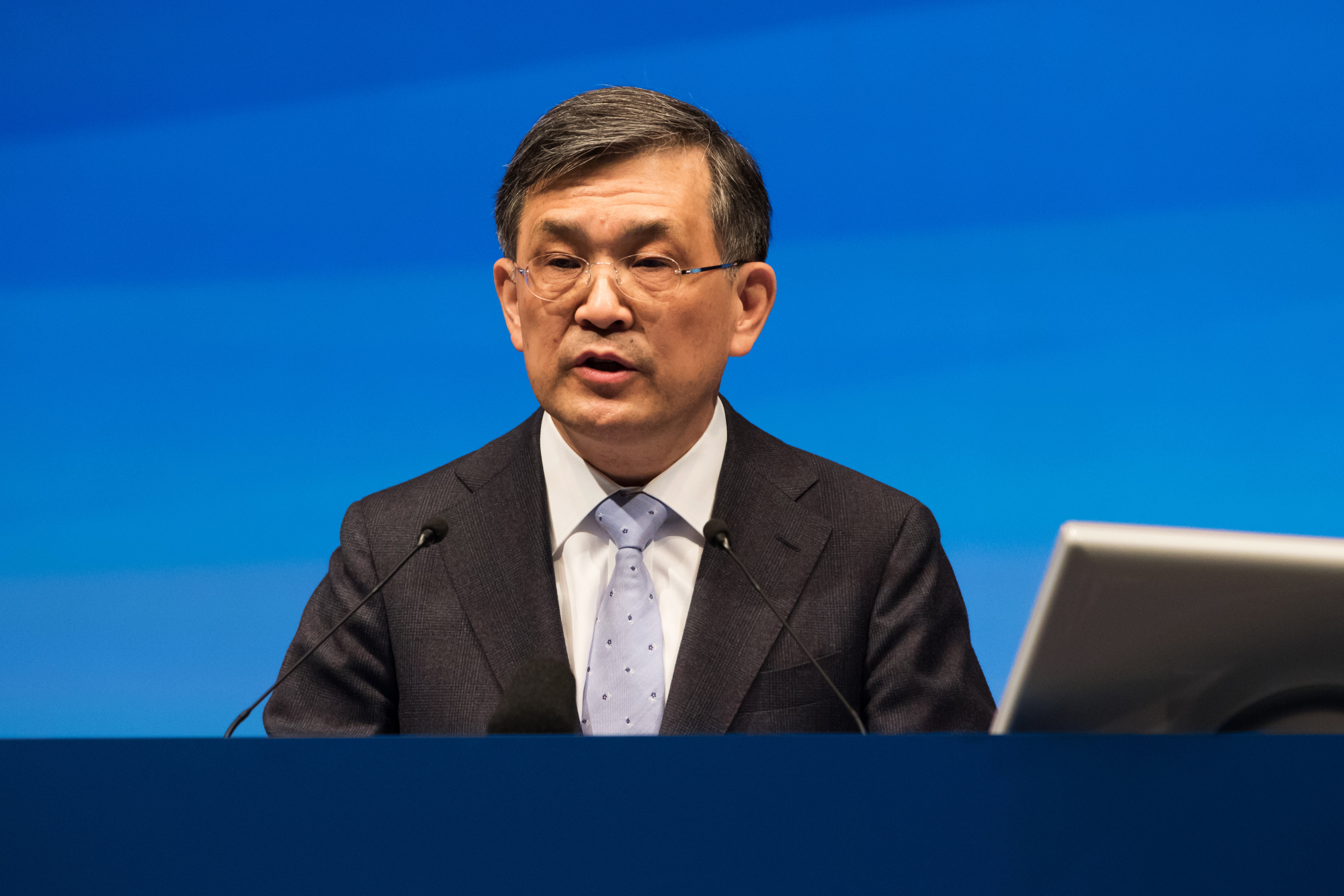 First, Samsung's de facto leader, Jay Y. Lee, got sentenced to jail on corruption charges. Then, one of the possible contenders to step into the top seat, Kwon Oh-hyun, announced his shock retirement as chief executive officer of Samsung Electronics Co. It's been a year to forget for the top executives at South Korea's biggest conglomerate. Not so much for shareholders, though; the stock just keeps going up.
1. What happened to Jay Y. Lee?
Jay Y.was sentenced to five years in prison in August after a court convicted him of bribing his way to greater control of the Samsung empire his family founded. Heir to the country's biggest fortune, Jay Y. got embroiled in an influence-peddling scandal that led to the ouster of South Korea's President Park Geun-hye. The scandal centered on payments by the country's family-run conglomerates, known as chaebol, to foundations controlled by the president's friend, Choi Soon-sil. Jay's trial shone a spotlight on the close ties between business groups and the political elite, a growing source of frustration for ordinary South Koreans.
2. What was Jay Y. accused of doing?
Lee, 49, confirmed in his testimony Samsung gave millions to Choi's foundations, but he denied it had sought favors in return. The court disagreed. A special prosecutor contended Samsung made the contributions to win government support for Lee's efforts to take over management control from his father. Specifically, Samsung wanted to merge two of its affiliated companies to give the younger Lee greater control over Samsung Electronics, the crown jewel of the conglomerate. Jay Y. was convicted of bribery, embezzlement and other charges.
3. Is his career over?
Not necessarily. The first hearing of Jay Y.'s appeal began Oct. 12. And at least five chaebol executives have been convicted of wrongdoing in South Korea and eventually returned to leadership roles. In fact, Lee's father was prosecuted for tax evasion, breach of duty and bribery, convicted and ultimately returned to the helm of his company.
4. What is all this doing to Samsung's business?
Investors have been surprisingly sanguine. This year, the stock has surged to an an all-time high, the Galaxy S8 smartphone was released to glowing reviews and record earnings topped estimates as Samsung's profits overtook those of rival Apple Inc. thanks to memory chips. That's helped the Suwon, South Korea-based company move on from last year's Note 7 phone debacle, when batteries caught fire or exploded. Samsung says the Lee family isn't involved in day-to-day operations, leaving those responsibilities to trusted lieutenants.
5. But one of those has gone?

Exactly. Kwon stepped down as Samsung Electronics CEO on Oct. 13 in a surprise resignation after decades at the company. He said the business needed new leadership following the bribery scandal. He said Samsung Electronics faces an "unprecedented crisis" despite the financial success. Kwon, 64, had emerged as the public face of the company following the detention of Jay Y., grandson of the company's founder. Kwon will resign from the management board in March when his term ends.
6. But the shares keep booming?
Samsung Electronics stock dipped 1.5 percent on the day of Kwon's resignation. But it's hovering near an all-time record after rising by about 50 percent in 2017. On the day of Kwon's announcement, the company reported record operating income on booming demand for displays and memory chips. Samsung leads in the next generation of screens called organic light-emitting diode displays, supplying them to Apple and other smartphone makers. It's also seeking to release a phone with a bendable display next year.
The Reference Shelf

Before it's here, it's on the Bloomberg Terminal.
LEARN MORE