Corbyn Proud to Be 'Existential' Threat to U.K. Economic Model
By
Labour leader agrees with Conservative Party view of his plan

Says Britain's economy 'doesn't work for most people'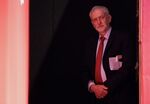 U.K. opposition Labour Party leader Jeremy Corbyn will say he wants to fundamentally change the way Britain's economy runs if he gains power.
In a speech Saturday in central London, Corbyn will quote a remark by Chancellor of the Exchequer Philip Hammond that Labour poses an "existential challenge" to the U.K.'s economic model.
Read more about how Hammond painted Corbyn as an economic bogeyman
"He's absolutely right, we do," the Labour leader will say. "Their economic model is broken. It doesn't work for most people. Even the International Monetary Fund thinks inequality and low taxes for the richest are harming the economy. That's why Labour is now the new mainstream, developing a new consensus of how to run an economy."
Corbyn will say his model means investing in communities, rewarding "the real wealth creators -- that means all of us" and creating a "state that's not afraid to act when something goes wrong, but also takes action to make sure things work in the first place."
Since the Conservatives came within a few thousand votes of losing power in June, Labour has been working on plans for government. Treasury spokesman John McDonnell said last month that these included war-gaming the possibility of a run on the pound.
Before it's here, it's on the Bloomberg Terminal.
LEARN MORE