These Are 'the Donald Trump of Brazil's' Economic Policy Proposals
By and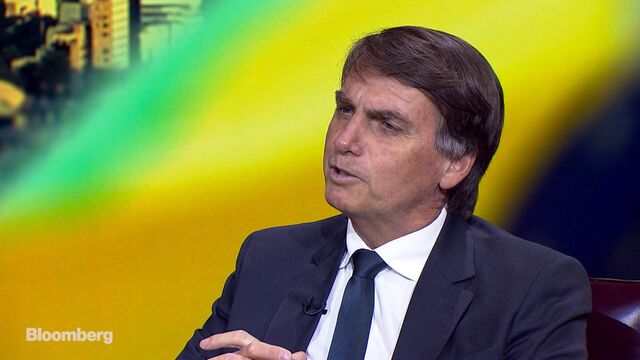 Jair Bolsonaro, the ex-Army captain who is rising quickly in Brazil's presidential polls says he is "serious" about becoming the nation's next leader and that he intends to review a series of policies implemented by his predecessors. Here's a summary of the proposals he laid out to Bloomberg News in an interview:
On Privatization
Bolsonaro says he is willing to consider the privatization of state companies in all sectors, but foreign participation in what he called 'strategic sectors', such as energy and mining, should be 'carefully regulated' and implemented 'gradually'. Oil giant Petrobras could be part of the program, but "we shouldn't start with it" as he wants to avoid selling it on the cheap. Bolsonaro said privatization and the sale of concessions is a way to boost competitiveness and "practically nullify issues of corruption" in state-owned companies.
On Central Bank Policy
The deputy for Rio de Janeiro says the benchmark interest rate, known as the Selic, could be cut to just 2 percent. Borrowing costs currently stand at 8.25 percent.
Bolsonaro thinks that the value of Brazil's real should remain roughly at its current level, and to that end the central bank should intervene in currency markets as necessary.
On Economic Team
"The people with me say it would be very good if the economic team of the central bank -- but not of the Finance Ministry -- were the same, or similar," he said, referring to the monetary authority's current board, led by Ilan Goldfajn.
On Trade Relations
China is currently Brazil's biggest trading partner but Bolsonaro has serious reservations about Chinese investment in Brazil. He says Brazil should trade with China, but says he'd like "trade with the United States to be much larger" than with the Asian nation. He prefers "great partnerships" with U.S. firms instead of "making concessions to the Chinese."
On Pension Reform
Bolsonaro accepts that there is a need for a reform in Brazil's pension system. But favors a much more gradual approach to reform than the one currently in Congress. He would target the country's bloated civil-servant system and also review social-subsidies programs, including 'Bolsa Familia'.
— With assistance by David Biller
Before it's here, it's on the Bloomberg Terminal.
LEARN MORE