Small Business
This Steak-Sharing Startup Targets Foodies Looking for High-End Beef
Crowd Cow expects revenue of at least $7 million this year.
By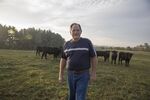 Crowd Cow delivers premium beef from small, independent farms to foodies nationwide. "People are looking for more clarity about what they're eating," says co-founder Ethan Lowry. The company sells one cow at a time, offering shares to customers who've signed up for email alerts via Crowd Cow's website.
 
① The Farm
Bob and Kate Boyce have been running the Lil' Ponderosa, a 185-acre farm in Carlisle, Pa., for about 30 years. The farmers, who signed on to supply Crowd Cow in June, own more than 200 purebred Black Angus cattle that are fed grass from birth to harvest. "We're breeding for the strongest traits possible," Bob says. "Consistency is one of the biggest problems in the beef business." The startup lets farmers avoid the sometimes tedious and time-consuming work that goes into selling cows at markets or to high-end restaurants.
 
② The Company
Founders Lowry and Joe Heitzeberg, both 44, are betting on growing demand for premium products. The two have worked in the Seattle tech scene since the late 1990s; Lowry co-founded the early restaurant review site Urbanspoon. They'd heard a mutual friend rave for years about the beef he bought from a farm in western Washington. So in 2015 they decided to buy a cow directly from a small farm outside Seattle, then sell cuts through crowdsourcing. The first cow weighed 550 pounds and sold out in 24 hours. "There's a huge market of people who want to find something better than commodity beef," Lowry says.
 
③ The Beef
The cow is slaughtered, and the beef is packaged and sent to one of Crowd Cow's two distribution centers. Customers receive an email announcing an "event"—a new sale. Crowd Cow offers roughly 60 shares per cow. A recent $89 share from Lil' Ponderosa included a 32-ounce rib steak, 32 ounces of ground beef, and two 12-ounce chuck steaks. Such parts as the liver, kidney, and tongue are sold, too. "We sell the tongue pretty fast," Lowry says.
 
Crowd Cow expects to post revenue of at least $7 million this year. The initial fundraising round brought in $2 million. Investors included Fuel Capital, Zulily Inc. founders Mark Vadon and Darrell Cavens, and ex-NFL star Joe Montana, who has a venture fund. 
Before it's here, it's on the Bloomberg Terminal.
LEARN MORE