Technology
This Milk-Jug-Size Device Can Help Newborns Breathe
The Third Pole makes its own nitric oxide to treat pulmonary hypertension, no tanks required.
By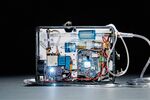 The milk-jug-size Third Pole generates nitric oxide (NO) from the air to improve oxygenation and treat pulmonary hypertension, a common ailment among newborns, without bulky tanks or regulators.
Innovators
Warren and David Zapol
Ages: 75 and 45
Co-founders of Third Pole Inc., an eight-employee startup in San Francisco and Arlington, Mass.
1. Setup
A clinician determines the appropriate NO dosage to saturate the patient with oxygen, then inserts a nasal tube connected to the Third Pole and switches it on.
2. Use
The Pole combines air with pulsed electrical charges to produce NO, dilating the blood vessels in the patient's lungs to send more oxygen to the rest of the body.
Background
Warren Zapol, an anesthesiologist and Harvard professor, was among the first to treat hypertension-suffering "blue babies" with NO in the early 1990s, leading to the widespread use of tanks and regulators. His son, David, has advanced degrees in biology, public health, and immunology from MIT, Columbia, and Stanford.
Origin
The father-son team founded Third Pole in 2014 after a few years of tinkering with prototypes to make NO delivery easier and cheaper.
Funding
Third Pole has raised about $9.5 million in venture funding and received $3.5 million in grants from the National Institutes of Health.
Market
The Zapols say they're pitching to hospitals for now but are also working on a paperback-size version (pictured) that can be clipped to a belt for home use.
Next Steps
Third Pole says it will start shipping its device in 2019. "This is a very big deal for patient care," says Nobel Prize-winning pharmacologist Louis Ignarro, because it makes NO treatment affordable for a much wider range of hospitals and patients. The current method, he says, carries "incredibly high expense and a consequent drain on health-care funds."
Before it's here, it's on the Bloomberg Terminal.
LEARN MORE