May Should Fire Hammond for Brexit 'Sabotage,' Nigel Lawson Says
By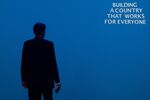 U.K. Prime Minister Theresa May should fire Chancellor of the Exchequer Philip Hammond because of his negative warnings about Brexit, said Nigel Lawson, a Tory who held the finance minister's job in the 1980s.
Hammond said on Wednesday the U.K. government needs to prepare for "the possibility of a bad-tempered breakdown in negotiations where we have non-cooperation and the worst-case scenario, even a situation where people are not necessarily acting in their own economic interests." He also raised the ire of supporters of Britain's departure from the European Union by saying he would only start spending money on preparations for a "no deal" scenario at "the very last moment."
"I fear that he is unhelpful," Lawson, now a member of the upper, unelected House of Lords, said in a BBC Television interview on Thursday. "I fear that what he is doing he may not intend it, but in practice, what he is doing is very close to sabotage.''
Hammond emerged strengthened from the general election in June, before which it was widely reported in the U.K. press that he would be fired in a cabinet reshuffle. After May lost her parliamentary majority, the chancellor remained in his post and has since flexed his muscles to push for a two-year transition period after Brexit to allow businesses to adapt. That's put him at odds with Brexit-supporting cabinet members including Foreign Secretary Boris Johnson.
Asked whether Hammond was undermining the Brexit negotiations, Lawson said "I fear he is," and that the solution for May was "probably a reshuffle." He wasn't the only pro-Brexit Tory to urge the chancellor's removal on Thursday. House of Commons lawmaker Nadine Dorries also did so, tweeting a clip from the Lawson interview with the comment "Hammond has to go."
May's spokesman Max Blain told reporters in London that the prime minister has full confidence in Hammond.
Before it's here, it's on the Bloomberg Terminal.
LEARN MORE