Italy's Prime Minister Wins Vote on Electoral Reform
By
Government won three confidence votes and last secret ballot

Reform penalizes populist Five Star, now goes to Senate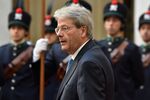 Italian Prime Minister Paolo Gentiloni won a vote in parliament on reform of the electoral system, averting the risk of a government crisis and early elections.
Gentiloni's center-left government won a secret vote in the lower house on Thursday, after three earlier confidence ballots, as it attempts to push through the change. In the final vote, lawmakers' choices were kept secret which afforded them cover to torpedo the bill. Gentiloni won with 375 lawmakers voting in favor and 215 against.
The bill will now go to the Senate, where the government has a smaller majority, for a vote likely later this month.
Italy has had 64 governments since World War II and the disputed electoral reform is raising the specter of political crisis once again, with elections due in the first half of next year. The changes proposed by Gentiloni's government would penalize the populist Five Star Movement because they favor parties that form coalitions, whereas Five Star prefers to go it alone.
Five Star lawmaker Alessandro Di Battista denounced the reform in a Facebook post as "an institutional coup d'etat" worthy of the late Fascist dictator Benito Mussolini. The reform's backers, including Gentiloni's Democratic Party, ex-premier Silvio Berlusconi's Forza Italia and the anti-migrant Northern League, argue it harmonizes electoral systems for the lower house and the Senate, and makes easier to form stable governments.
Opinion polls show three blocs are virtually tied -- the Democrats, Five Star and any possible center-right coalition including Forza Italia and the League.
Franco Pavoncello, president of John Cabot University in Rome, said in a phone interview that parties would have to try to set up coalitions -- with Five Star excepted. "I see the Democrats and Forza Italia as the core of a coalition which has the greatest chance of achieving a majority, but I wouldn't take anything for granted," Pavoncello said.
— With assistance by Chiara Albanese
Before it's here, it's on the Bloomberg Terminal.
LEARN MORE