Hong Kong Slaps Banker With Ban for Mobile Phone, WeChat Use
By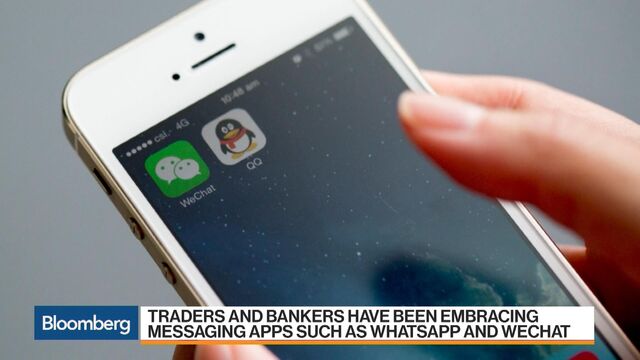 Hong Kong's securities watchdog banned a brokerage employee from the industry for four months for the manner in which he used his mobile phone and Tencent Holdings Ltd.'s WeChat to take orders from clients.
Xu Tao, a former investment consultant of China International Capital Corporation Hong Kong Securities Ltd., can't work in the industry again until February, the Securities and Futures Commission said in a statement on its website dated Wednesday. Xu used his mobile phone and the WeChat messaging application to accept order instructions from 13 clients between February and August 2015, in breach of the SFC's code of conduct and his employer's internal rules, according to the statement.
Regulators around the world are grappling with how to make sure finance-industry employees meet record-keeping obligations as technology makes it easier to communicate and conduct business on private platforms. Earlier this year, a former Jefferies Group LLC banker was fined in the U.K. for sharing confidential data on WhatsApp.
This isn't the first time that the Hong Kong regulator has penalized employees in the industry for using mobile phones and messaging applications without proper record keeping. The SFC in March banned Philip Leung Ming Yin, a former brokerage account executive, from re-entering the industry for six months in part because of such conduct.
Dating back as far as 2015, the SFC has also handed down suspensions to brokerage employees for using WhatsApp inappropriately for taking client orders.
Simply Convenient
In Hong Kong, telephone orders must be recorded and if a transaction is arranged by mobile phone, the person taking the order is obliged to immediately call their own company and note the order details in a recorded conversation, the SFC said in its statement Wednesday.
Xu disregarded company procedures and used his mobile phone "simply because it was a convenient communication tool for him and the clients," the SFC said in the statement. The regulator took into account Xu's "otherwise clean disciplinary record" when determining the ban, it said.
"The recording of client order instructions is an integral part of keeping an audit trail and ensuring that there is reliable evidence to resort to when assessing any dispute between a broker and its client concerning the particulars of a trade order," according to the SFC statement. "It is also an effective compliance monitoring tool to prevent or detect any irregularities or fraudulent activities."
Before it's here, it's on the Bloomberg Terminal.
LEARN MORE