technology
Gates's Rich Pals Donate $30 Million for School Gift Honoring Him
Microsoft, Bezos, Smith, Nadella among contributors to naming of computer-science building after Bill, Melinda Gates
By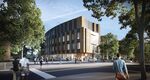 Microsoft Corp., several of its former and current executives, and Jeff and Mackenzie Bezos are among those donating more than $30 million to the University of Washington in Seattle to name a computer-science building after philanthropists Bill and Melinda Gates.
The building named for the Microsoft co-founder – the world's richest person – and his wife will sit across the street from the one named for Gates's Microsoft partner, Paul Allen. Melinda Gates, a former Microsoft manager, co-founded the couple's foundation and is active in issues from health to birth control access. The campus is broadening its computer-science program to keep up with demand, and is spending $110 million on the new 135,000-square-foot building, UW said Thursday in a statement.
The total gift from the group, calling itself Friends of Bill & Melinda, includes $20 million from Redmond, Washington-based Microsoft and $5 million from Charles Simonyi – who oversaw the development of Microsoft Word and Excel – and his wife, Lisa. Other couples contributing include Microsoft CEO Satya Nadella and wife Anu; Microsoft President Brad Smith and wife Kathy Surace-Smith; artificial-intelligence chief Harry Shum; and past executives including Jim Allchin, Jeff Raikes, Rich Barton and Craig Mundie, along with their spouses. Bezos, whose wealth ranks just behind Gates's, is founder of Amazon, also based in Seattle.

``I can't think of a better way for those of us who have had the privilege of working alongside Bill and Melinda to express our gratitude and admiration than to name this building for them,'' Brad Smith said in the statement.
The building, part of the computer-science school – which is also named for Paul Allen – is set to be completed by the end of next year. As high school students, Gates and Allen often wandered into the the university's student computer labs to gain access to machines that were rare at the time, Allen has said. Gates's mother, Mary Maxwell Gates, served as a regent of the university for almost two decades.
Before it's here, it's on the Bloomberg Terminal.
LEARN MORE