Europeans Plan to Keep Calm and Carry On With Iran Deal
By , , and
'Decertification' by Trump would put onus on U.S. lawmakers

Europeans expect Iran to keep complying unless sanctions added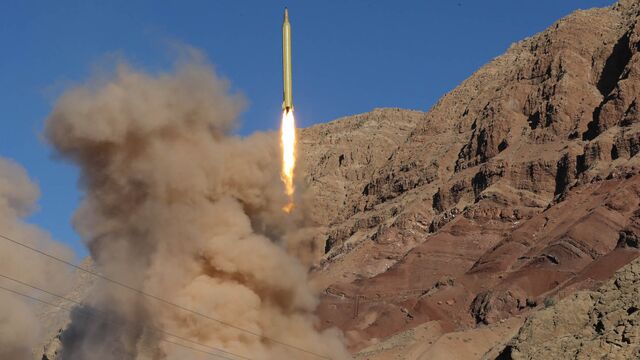 If Donald Trump declares Friday that the 2015 Iran nuclear deal isn't in the U.S. interest, the likely reaction from European allies may be best captured by a famous British slogan from World War II: "Keep calm and carry on."
France, Germany, Britain, and the European Union -- which negotiated the agreement with Iran along with the U.S., Russia, and China-- plan to continue to apply the accord, hoping U.S. lawmakers don't reimpose sanctions that might blow it up, according to officials.
"Myself and my British, French and German colleagues have been going around Congress so that they are aware of our position: The nuclear deal is working and we should keep it," David O'Sullivan, the EU ambassador to U.S., said in an interview. "In this period of uncertainty, we Europeans want to stress that this is a good deal."
U.S. Secretary of State Rex Tillerson began calling counterparts, including French Foreign Minister Jean-Yves Le Drian, Thursday to inform them of Trump's decision on whether he'll certify to Congress that Iran is complying with the multinational accord that eased sanctions on the Islamic Republic in return for curbs on its nuclear program. White House press secretary Sarah Sanders said the announcement will come Friday at 12:45 p.m. Washington time.
If, as expected, Trump finds the accord isn't sufficiently serving the U.S.'s national security interest, lawmakers could reimpose sanctions, although even some leading congressional critics of the accord have said they'll press instead for negotiating new constraints on Iran's behavior.
"As flawed as the deal is, I believe we must now enforce the hell out of it," House Foreign Affairs Committee Chairman Ed Royce, a California Republican, said at a hearing of the panel Wednesday.
Allies' Insistence
U.S. allies insist the nuclear deal is living up to its objective: preventing Iran from building nuclear weapons. Unless Congress reimposes sanctions, European officials expect Iran will continue to comply with the accord, and so will they. If the U.S. reimposes sanctions that were eased under the accord, it would be the country in violation of the deal, a French official said. That may give Iranian hard-liners an opening to push for resuming the nuclear program, the official said.
The core of the disagreement between Trump and the Europeans is over the scope of the accord. Trump's argument is that there's no point sticking to an agreement on Iran's nuclear program while it's also engaging in ballistic missile development and, as the U.S. and some of its Arab allies say, stirring up conflict in Syria, Yemen, and Lebanon.
"The deal was only about one issue," O'Sullivan, the EU ambassador, said. "We never attempted to resolve all the issues that we have with Iran."
The French official, who spoke on the condition that he wasn't identified, said the Europeans could consider further sanctions should Iran persist with its ballistic missile program. But the ballistic and other regional issues must be kept separate from the nuclear issue, he said.
The official said diplomats from his country's embassy in Washington and those of the U.K. and Germany have held extensive talks with members of Congress over the past month. Both French and German officials said the message they've received is there's little appetite to reimpose nuclear-related sanctions, but that such restraint may not hold as the U.S. congressional elections approach in 13 months.
Senator Ben Cardin, the top Democrat on the Senate Foreign Relations Committee, said on MSNBC Thursday that "we don't know what Congress will do" because "the pressure may build" to take action quickly.
Read a QuickTake Q&A on how Trump can oppose the Iran deal but not leave it
The U.K's embassy in Washington posted a statement and video to its Twitter page last week, saying. "The Iran nuclear deal is working." It cited a comparison of Iran's nuclear program before and after the agreement, saying that two-thirds of Iran's centrifuges for enriching uranium were gone and 95 percent of its uranium stockpile was shipped out of the country.
European officials are also trying to determine the implications of Trump's expected decision for companies that have returned to do business in Iran since the deal was implemented.
"We want clarity, legal security for our companies," French Finance Minister Bruno Le Maire said in an interview Thursday after a meeting with U.S. Treasury Secretary Steve Mnuchin.
French automaker Peugeot SA and oil producer Total SA have signed contracts in Iran since 2015, but their executives recall past heavy U.S. fines for companies such as BNP Paribas SA that were ruled to have violated U.S. sanctions on Iran. Even if the U.S. imposes narrowly drawn sanctions affecting American companies and financial institutions, it potentially would have a spillover effect on businesses abroad.
— With assistance by Mark Deen, and Nick Wadhams
Before it's here, it's on the Bloomberg Terminal.
LEARN MORE