Brainard Sees Risks in Price-Level Targeting for Federal Reserve
By
Central bankers coping with inflation misses and low rates

Price-level target risks shaking confidence in inflation goal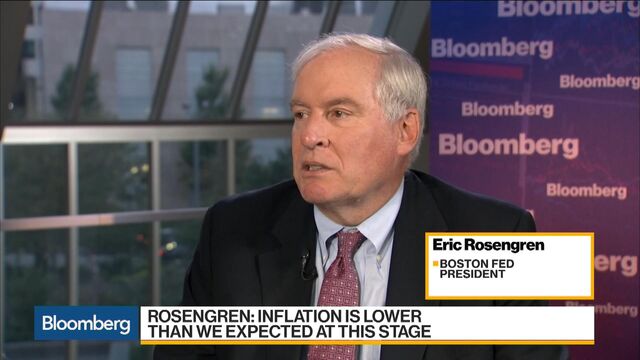 The Federal Reserve's continuous miss of its 2 percent inflation target is "an important consideration" for monetary policy, Fed Governor Lael Brainard said, though proposals to make up for time spent under the goal also have their own risk.
"Frequent or extended periods of low inflation run the risk of pulling down private-sector inflation expectations, which could amplify the degree and persistence of shortfalls," Brainaird said Thursday in the text of her remarks at the Peterson Institute for International Economics in Washington. That puts the central bank more at risk of hitting the zero lower boundary on its policy rate, she noted.
Brainard was responding to a paper by former Fed Chairman Ben Bernanke presented at the conference. She didn't comment on the current state of monetary policy in her speech.
Brainard said raising the Fed's inflation target could risk unmooring inflation expectations. Bernanke proposes a temporary price level target which would delay raising the Fed policy rate from zero "until the average inflation over the entire lower bound episode has reached 2 percent and full employment is achieved," Brainard said.
The policy would result in a temporary overshoot of the inflation target to make up for previous undershooting. Brainard raised several concerns about the proposal:
"One risk is that the public, seeing elevated rates of inflation, may start to doubt that the central bank is still serious about its inflation target."
"A conscious policy of overshooting may be difficult to calibrate, especially since the large confidence intervals around inflation forecasts suggest that the risks of an undesired overshooting are nontrivial."
"One additional challenge of the proposed framework is specifying a path for the policy rate immediately following liftoff that smoothly and gradually eases inflation back down to target and facilitates a gradual adjustment of the labor market."
Brainard said the risk of financial imbalances "may be greater" with explicit inflation target overshooting.
Before it's here, it's on the Bloomberg Terminal.
LEARN MORE