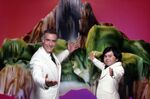 There is even more magical thinking about future profits than usual.
Companies begin reporting their third-quarter earnings in earnest this week, and the results are not expected to be all that fantastic. Profits are predicted to have grown just 3.6 percent for the companies in the S&P 500 compared with the same quarter a year ago, according to Bloomberg estimates. That would be the slowest growth in a year and a significant drop from the 10 percent earnings increase in the second three months of the year.

Investors and Wall Street strategists, though, seem unworried. The market has traded up nearly every day since the second week of September. Mike Wilson, the bullish chief U.S. equity strategist at Morgan Stanley, says the low bar for earnings is actually a good thing because it makes it easier for companies to beat expectations. Some of the slowdown can be attributed to the temporary effects of hurricanes. But the biggest reason for the continued optimism is that profit growth is expected to quickly rebound to nearly 12 percent in the fourth quarter and remain in double-digit territory for the foreseeable future.
This is where something called the price-to-fantasy ratio comes in. It was dubbed by top Wall Street strategist Rob Arnott, the chairman and CEO of Research Affiliates who is also considered the father of smart beta funds, ETFs that use quantitative factors to choose their investments. It compares stock prices to what analysts think companies will earn not next year, but the year after -- right now that means in 2019.

The problem is that estimates of what companies will earn two years from now are often wrong, which is why Arnott calls the forecasts fantasy. For instance, in October 2013, companies in the S&P 500 were expected to collectively earn $137.39 a share in 2015. Actual 2015 S&P 500 profits totaled $108.64. In 2014, analysts were predicting $148.70 a share for 2016. In reality, earnings fell last year to $108.40. Still, the price-to-fantasy ratio can be useful because it shows just how much of those rosy estimates investors actually believe will come true. Right now, fanciful thinking abounds.

The current price-to-fantasy ratio is 15.9. That's higher than the ratio, which has averaged 12.3 over the past decade and a half, has been in a while. The ratio did climb above 19 during the late 1999s dot-com bubble. But the highest it reached before the last time the market dropped significantly in 2008 was just 13.2.
The more widely watched price-to-earnings ratio based on this year's expected earnings has been relatively high for a while. It's 19. But that's not a concern as long as earnings are growing fast enough to return the P/E to its historical average in the future. To do that, profits will have to more than meet expectations. Of course, low interest rates can also boost P/E's. But for the price-to-fantasy ratio to make sense, interest rates need to stay low not just next year but through 2019 as well.
It may be rational to ignore one quarter of disappointing earnings. But more and more, justifying the market's current prices seems to require a trip to Neverland. 
Before it's here, it's on the Bloomberg Terminal.
LEARN MORE