There's a War Being Waged Over the American Wedding
Marriages are down and competition is up as bridal boutiques face an existential threat from big retailers and startups.
By and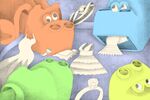 This fall, Alfred Angelo Bridal held a big sale at its warehouse in Deerfield Beach, Fla. The boutique wasn't courting brides-to-be however—individual gowns couldn't be purchased, though they were available in bulk. The top seller that day wasn't even a dress; it was the store's 2008 Ford Cargo Van, which went for $5,300.
This particular sale was a bankruptcy auction. Alfred Angelo, which once handled a well-respected corner of the U.S. wedding industry, filed for liquidation in July. Overnight, customers found their orders unfulfilled, leaving brides scrambling to find dresses in time for weddings that in some cases had to be called off. The good news for Alfred Angelo was that it managed to raise about $250,000 to pay off creditors. The bad news was that its largest lender, a Connecticut asset management firm, had extended it $54 million. 
Even before Alfred Angelo's sudden collapse, the bridal industry was in chaos. The old guard had been losing business to upstarts backed by Silicon Valley and legacy retailers seeking a chunk of a reliable market. David's Bridal Inc., the longtime industry leader with a 25 percent market share, is writhing under a pile of debt. And it's not just about the dress: Signet Jewelers Ltd., owners of Jared, Kay, and Zales, is dealing with lackluster sales as bigger fish move into the engagement and wedding ring space.
Ratings firm Moody's shifted its outlook of David's from stable to negative in September. Raya Sokolyanska, an analyst at Moody's, said there's a new paradigm emerging in bridal retail. "The bride can buy a budget wedding gown online, or a white dress from any apparel brand instead of a traditional gown," she said. "That's increased competition for David's Bridal and other bridal retailers, especially at the lower end."
"The consumer," Sokolyanska said, "has more choices."
More choice may be good news for the soon-to-be-betrothed, but it's small solace for the little stores who for decades traded on a deep cultural fixation with wedding accoutrements. It also doesn't help that the overall pie is shrinking—marriage rates have fallen since the mid 1980s as more couples choose to live together before heading to the altar. The number of adults who never married has reached a record high of 20 percent, a cultural earthquake largely driven by millennials skipping the tradition entirely. In 1960, just 9 percent of adults aged 25 and older had never been married. This trend is expected to continue, with researchers forecasting just 5.8 marriages per 1,000 people in 2022, down from an estimated 6.4 marriages this year.
Even as wedding rates fall, a frenzy is underway to claim a foothold in the existing space. Gap Inc. has Weddington Way; Urban Outfitters has BHLDN. Nordstrom, Macy's, and Bloomingdale's are all taking a piece of the bridal business, selling everything from bridesmaid dresses to wedding bands.
Then there are the startups. Venture capital firms have pumped at least $490 million into the bridal industry in recent years, according to data compiled by Bloomberg. There are new registry services such as Zola and Blueprint. Dress services include Vow to be Chic and Brideside. All Seated handles seating charts while Paperless Post does invitations (with actual paper if you like). Diamond Foundry, backed by $100 million in venture funding, grows diamonds in a California laboratory for setting in engagement rings.
For some investors, their zeal paid off. When Gap acquired Weddington Way in December for an undisclosed sum, the bridesmaid dress startup, founded in 2011 by a former Bloomingdale's buyer, had already amassed $11.5 million in venture capital.

For decades, if you were getting married, chances are you bought everything for the wedding in the same way. You went to a one-stop shop with a few loved ones, and you'd get the personal experience of picking out a wedding gown, bridesmaid dresses, accessories, and shoes. The dress selection was unrivaled, and you could even score some bargain numbers for under $100. 
David's Bridal was the ultimate provider of the bridal shoppe experience, and its ability to make money in a steady fashion didn't go unnoticed by would-be suitors. The first shop popped up in the 1950s as a single boutique in Florida, before founder David Reisberg sold it to an investor in 1972. The new owner expanded the boutique concept under the David's Bridal banner, opening both standalone outposts and shops within department stores. The chain slowly expanded until it was the biggest bridal seller in the country. In 1999, the chain went public. A year later, May Department Stores Co. acquired it for $436 million. Eventually David's was purchased by Leonard Green & Partners, a private equity firm. Then, in 2012, it was bought by another firm, Clayton, Dubilier & Rice.  
But as David's Bridal bounced from one parent to the next, the 300-plus store chain began to accumulate debt. This included a $491 million senior secured term loan due in 2019 and $270 million in unsecured notes due in 2020. Its sales didn't kept pace. Earnings have declined 30 percent since their 2012 peak. The retailer currently has a revenue base of $738 million, according to Moody's—relatively small compared with general fashion retailers but imposing when placed next to wedding industry competitors. Alfred Angelo had an estimated 3.1 percent market share while Kleinfeld Bridal, in New York City, has a 1.2 percent estimated market share, according to IBISWorld. When Moody's cut David's Bridal outlook, it cited a "heightened risk of a balance sheet restructuring" and an "untenable" capital structure. The world of bridal, it seems, had become ripe for disruption.

Almost any retail industry in the world of brick-and-mortar (or steel and concrete) is susceptible to attack by ecommerce. Bridal shops like David's have been pretty well insulated though, by dint of what they sell and how they sell it. Buying a wedding dress is traditionally an emotional, once-in-a-lifetime event. Not the sort of thing one does on Amazon.com. Many American brides will always want the full, in-person treatment, the industry reasons—in part since that's always been the case. 
Department stores and fashion retailers with too much square footage saw an opportunity to convert extra space into their own version of this reliable moneymaker. So they jumped into bridal. And it worked.
Executives at Urban Outfitters, which also owns Anthropologie and Free People, regularly call out BHLDN (as in "beholden") for being one of its fastest-growing brands. The store sells both bridal gowns and bridesmaid dresses, along with accessories, at its 16 locations and online. It plans to grow the label by opening more boutiques inside existing Anthropologie stores and expects annual revenue from just the bridal business to surpass $100 million over the next three to five years. 
Ilana Stern, founder and general manager of Gap-owned Weddington Way, said she started her company because brides had so many issues coordinating shopping, especially for bridesmaid dresses. If all the bridesmaids are in one place, it's easy to go to a local boutique and get everyone their outfits. But if they're scattered far and wide, it's much harder. Under Gap, Weddington Way now has 10 physical boutiques tucked inside Banana Republic shops so shoppers can get style advice and dress fittings in person, even if they have to travel to the wedding.
Many other upstarts hope to win over brides, too. Dresses are a hot category, with such startups as Vow to be Chic, Union Station, Borrowing Magnolia, and Get the Gown offering designer dress rentals for brides or bridesmaids. Clothing rental pioneer Rent the Runway—much bigger than its specialized counterparts —has also gotten involved with its own online wedding shop, serving up styled looks for brides, bridesmaids, the mother of the bride, and guests. 
With all this competition, there's at least a little good news for embattled bridal boutiques—not every new entrant to the arena succeeds. After a decade of trying to win a piece of the wedding business, J. Crew nixed its bridal line last year, and all signs of nuptials were removed from both its stores and website.
Representatives of David's Bridal and Signet didn't return calls seeking comment. As for Alfred Angelo, a bankruptcy lawyer representing the defunct boutique said she's trying to get customers their gowns.
"We have delivered dresses to 500 to 600 brides and bridal party members," the lawyer, Patricia Ann Redmond, said.
Before it's here, it's on the Bloomberg Terminal.
LEARN MORE