Business
The CEO Who Took a Job His Friends Called a Suicide Mission
AstraZeneca boss Pascal Soriot sees profit where others see lousy odds
By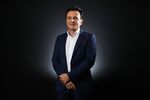 When Pascal Soriot was offered the chance to run AstraZeneca Plc in 2012, the British drugmaker lagged in developing immuno-therapies, a new frontier for cancer research; it was poised to lose about $17 billion of sales through 2018 due to expiring patents; and its slate of new medicines appeared lackluster. The situation was so bleak that one colleague told him it would be "suicidal" to sign up. Soriot took the job.
"They looked like they'd lost their way a little bit," Soriot says. "There was an opportunity to make a difference and rebuild."
For years, Soriot has seized opportunities to prove naysayers wrong. After revitalizing Astra's pipeline of drugs and making the company a serious contender in cancer, he's now seeking to overcome doubts he can boost sales by more than 80 percent over the next six years and catapult Astra into the top tier of global drugmakers. He wants until early 2019 to show he can deliver.
The 58-year-old Frenchman's biggest gambit—a trial called Mystic, which combines a pair of immuno-therapies billed as a possible breakthrough in treating lung cancer—failed to prove it can curb tumor growth in a key leg of the study. The setback erased $14 billion from Astra's market value in a single day last summer, though it has since recovered that lost ground.
"Wait a little longer and see what the share price will look like," says Soriot. "This is biology and this is innovation—and innovation is risky."

After studying veterinary medicine near Paris, Soriot shifted course and earned an MBA, seeing it as a ticket to explore the world. He secured assignments with drugmakers in Australia and Japan before joining Roche Holding AG. In 2009, Roche tapped Soriot to run its biotech unit and then its pharma division, but Soriot sensed he wasn't going to become CEO—so he decided to jump when Astra came calling three years later.
One of his first moves was reviving Lynparza, an experimental cancer drug abandoned in 2011. The research team had been "pulling their hair out" at the work being stopped. That move has paid off, with Lynparza forecast to generate almost $1 billion in sales in 2020.

Less than two years after Soriot took over, while he was still in the early stages of bolstering the pipeline, U.S. giant Pfizer offered $117 billion for Astra—a 45 percent premium over its stock price a month earlier. Soriot rebuffed Pfizer, leading some investors to question his judgment, especially since Astra today trades below the offer price. 
Soriot, though, insists he was smart to spurn the bid, pointing to a revision to the U.S. tax code that scuttled a similar deal between AbbVie Inc. and Shire Plc just five months later. "We escaped a mess," he says.
Success in rejecting Pfizer became a touchstone for Soriot, says Briggs Morrison, Astra's former chief medical officer. When subordinates told the boss a project had poor odds, Morrison recalls, "he'd say, 'Well that's higher than what they told me for Pfizer.'"
In June, when the British drugmaker briefly surpassed Pfizer's offer of 55 pounds a share, he appeared vindicated. But weeks later, the stock was battered by a report that Soriot had been tapped to run Teva Pharmaceutical Industries Ltd. (Teva has since appointed a new chief, and Soriot now says Astra will be his last job before retiring.) The Mystic news followed within days. The stock plummeted, potentially making the company vulnerable again.
"The pressure is rising," says Bartjan van Hulten, founder of investment firm Medex Capital Ltd. in London. "Now he's got live up to the expectations he's set."

Soriot counters that shareholder returns have more than doubled during his tenure, and says he's not done yet. The Mystic trial is still underway, to prove the drugs can improve life expectancy. Another Soriot bet has also paid off: A trial called Pacific, the first to test immuno-therapies in patients with less-advanced lung cancer, won over doctors last month, potentially adding more than $1 billion in annual sales.
"If not for Pascal, we would not have done Pacific," says Mondher Mahjoubi, the former head of oncology at Astra who also worked with Soriot at Roche. "In another company, I would not have been successful in convincing the management."
Meanwhile Soriot continues to take sometimes controversial gambles. In July, he unveiled a deal to share Lynparza—the same cancer drug he'd rescued—with Merck & Co. in exchange for as much as $8.5 billion. That's akin to "selling the family silver," says Bloomberg Intelligence analyst Sam Fazeli.
Soriot still aims to achieve his goal of about $41 billion in sales in 2023. Analysts, though, forecast a more modest $33 billion. Soriot says investors will know who's right within a year and a half, once the verdict is in on key drugs.
"The other side of the river isn't very far away," he says. "I will not quit before we are on the other side."

QuickTake: Understanding Cancer Immunotherapy
Before it's here, it's on the Bloomberg Terminal.
LEARN MORE