Hundreds of Bulgarian Journalists Protest Censorship Threats
By
Deputy premier has threatened nation's biggest media outlets

Balkan country is ranked worst in EU for press freedom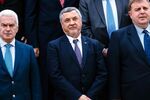 About 300 Bulgarian journalists gathered in front of the government building to protest against threats from a senior official against the Balkan country's biggest broadcasters.
Deputy Prime Minister Valeri Simeonov alleges comments he made last week on television were misinterpreted and warned the nation's three biggest TV stations and Bulgarian National Radio that he'll file libel suits unless they apologize. Simeonov, who represents Prime Minister Boyko Borissov's junior coalition partner, the United Patriots, later said he'd propose cutting sponsorship to the outlets under European Union communication programs.
"Our protest is triggered by mounting pressure on the media by the legislature and the government," Irina Nedeva, head of the Bulgarian section of the Association of European Journalists, told Bloomberg Wednesday in the capital, Sofia. "Imposing conditions and ultimatums is, in fact, interfering with editorial content and this is censorship by all definitions."
Bulgaria is the lowest-ranking EU member in Reporters Without Borders' World Press Freedom Index, with the Paris-based group saying "corruption and collusion between media, politicians and oligarchs are extremely common." The EU has repeatedly urged its poorest state to enforce the rule of law. The cabinet proposed an anti-graft bill last week that parliament may vote on before Bulgaria assumes the bloc's rotating presidency in 2018.
The latest spat began on Oct. 6, when Simeonov accused a host on privately held Nova TV of asking a "stupid" question about nepotism within the ruling parties. He told the journalist that he himself may face investigation into whether he helped his relatives get jobs.
Earlier in the show, a lawmaker from the ruling Gerb party said that if he owned Nova, he'd fire the host for his question over a state tender for fighter aircraft. Parliament accepted the lawmaker's resignation Wednesday.
Nova called the comments "unacceptable threats," while state-owned Bulgarian National Radio vowed to resist attempts to threaten and pressure journalists.
Bulgaria, which joined the EU a decade ago, slipped to 109th position in the press freedom index this year from 35th in 2006.
Before it's here, it's on the Bloomberg Terminal.
LEARN MORE