Ex-HSBC Trader Says Client Got 'Fair' Price in Currency Deal
By and
Defendant takes witness stand to challenge U.S. allegations

Mark Johnson is on trial charged with fraud, conspiracy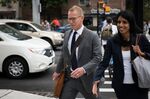 Former HSBC Holdings Plc currency trader Mark Johnson took the witness stand on Wednesday, insisting that he cheated no one in a $3.5 billion foreign-exchange transaction.
Johnson is accused of fraud for buying British pounds ahead of a client's order, forcing the client to pay a higher price. The bank made an $8 million profit as a result of the currency spike, according to prosecutors.
Wearing a dark charcoal gray suit, the bank's former global head of foreign exchange spoke in a low, quiet voice, telling jurors he didn't take advantage by trading ahead of the customer's order in 2011. Under U.S. law, Johnson didn't have to testify. But he waived his right to remain silent and spelled out for jurors why prosecutors are wrong when they claim he and a former colleague broke the law.
"For the risk HSBC took, the outcome was fair," Johnson told jurors.
Prosecutors say Johnson and Stuart Scott, then HSBC's head of foreign exchange cash trading in Europe, bought pounds in the days ahead of the transaction and also tipped off traders at the bank to make purchases.
Testifying in his own defense is risky for Johnson, who faces prison time if he's convicted. After questioning by his lawyer, Johnson will be cross-examined by U.S. prosecutors who will likely ask him about recorded calls they played during the trial. He had recapped the bank's trading that day as a "bonanza," predicting it would boost compensation for his team.
Those and other statements are likely to be the focus of prosecutors' questioning, as well as what he did in the weeks leading up to the Dec. 7, 2011 trade. In several emails and chats Johnson appeared to use code words to alert colleagues the transaction was about to occur.
Johnson denied prosecutors' claims that it was improper for him to tell traders in New York and London to buy the pound ahead of the conversion ordered by Cairn Energy Plc. The traders were all part of a team that handled the transaction and Johnson said there were no restrictions preventing them from being involved. He also denied that he or anyone under his supervision misled the client. 
HSBC Jury to Weigh If Forex Trader Was Front-Running Order
Johnson said the Cairn trade was handled properly.
"I was surprised it was a better-than-expected outcome for HSBC, but I think fair all around," he said.
HSBC traders were "aggressive," Johnson said, but explained it was required in handling such a large transaction. While the government calls it "front-running," Johnson said this was "pre-hedging," and "common practice." He insisted there were no regulatory, bank or industry policies prohibiting trading ahead of client orders.
As HSBC courted Cairn's business in the months before the transaction, Johnson said he had minimal contact with the client. He said he didn't know about representations HSBC employees made about the deal's confidentiality.
Johnson said he managed a business with gross revenue of as much as $2.5 billion while at HSBC. He said he began his 29-year banking career at Mitsubishi Bank, later working at Manufacturers Hanover, Chemical Bank and Deutsche Bank. He left Deutsche Bank to start his own firm where he managed money for institutional investors, he said. He joined HSBC in 2010.
The case is U.S. v. Johnson, 16-cr-457, U.S. District Court, Eastern District of New York (Brooklyn).
— With assistance by Suzi Ring
Before it's here, it's on the Bloomberg Terminal.
LEARN MORE