Brexit Talks Edge Backward as Time-Pressed U.K. Braces for Worst
By and
Davis and Barnier to speak at 12:15 p.m. in Brussels

EU says transition deal won't be included in talks yet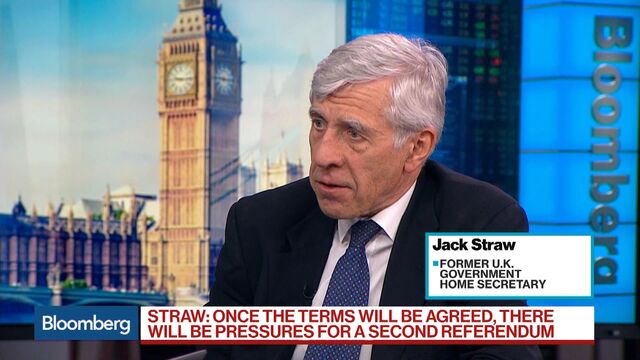 Follow @Brexit for all the latest news, and sign up to our daily Brexit Bulletin newsletter.
With Brexit talks stuck, the U.K. is preparing for the worst.
As the fifth round of negotiations draws to a close on Thursday, progress is so scant that the European side is stepping back from concessions it was said to be considering last month.
Three days of negotiations in Brussels produced very little progress, and no breakthroughs on citizens' rights after 2019 or the financial settlement for the U.K.'s withdrawal from the bloc, an EU diplomat briefed on the discussions said. A second diplomat, who also declined to be named, said the talks produced the minimum of what was expected.
The EU won't talk about trade before getting assurances that the U.K. will pay its dues, and with less than 18 months to go until the country tumbles out of the bloc, the focus in London has turned to contingency planning.

Philip Hammond, the pro-EU chancellor of the exchequer, says he's reluctant to spend cash on a Plan B just to score negotiating points. But he'll start releasing money as soon as January if progress hasn't been made in talks.
Judging by the latest EU rhetoric, the chances of that happening are growing. The goodwill that Prime Minister Theresa May generated in her speech in Florence, where she promised to pay into the EU budget for two years after Brexit and asked in return for a transition period so businesses can prepare for the split, hasn't translated into progress in talks.
Meanwhile May's Conservatives remain deeply divided on the shape of Brexit, with the premier struggling each week to tread a careful line between rival camps. The political establishment is so conflicted that late on Wednesday two politicians from opposing parties joined forces to try and effectively bind May's hands by tabling an amendment that would enshrine a two-year transition in law.
Pound investors are expecting swings in the currency to get more dramatic over the next three months, options show, as political uncertainty unnerves traders.
Bright Spot
The U.K. got one piece of good news from Germany on Wednesday, as a government document showed Germany wants U.K. banks to get transitional access to EU markets if Brexit talks drag on. It chimes with warnings from Germany policy makers that German companies could suffer if London as a financial center is harmed.
But four months of talks have done little to bring the two sides to the in-principle agreement on the divorce they initially hoped to have in time for a EU leaders summit next week. There's been some progress on the issue of citizens' rights -- an area where both were keen on a quick agreement -- while the thornier issue of the financial settlement remains a stumbling block. Last week people familiar with the situation said the U.K. hadn't accepted that it's liable for a share of the pensions of EU staff.

Brexit Secretary David Davis has pledged publicly to go through the EU's financial demands line by line. May's political capital has diminished since losing her parliamentary majority and the latest polling showed 70 percent of the British electorate opposed to paying a divorce bill of about 30 billion euros ($35.6 billion), which is less than what the EU sees as the U.K.'s liabilities.
Read more: May's Brexit Budget Offer Is Said to Be Conditional on Trade
So as the EU pushes for a greater commitment from Britain on the bill, the U.K. argues that some of the divorce issues can't be worked out until the future relationship is clearer.
At the same time May wants to cement the terms of the transition deal it seeks so that businesses can plan ahead -- the headlines of banks relocating and foreign companies cutting jobs is more bad news an embattled premier doesn't need.
Too Rigid?
Hammond expressed frustration on Wednesday that the EU was being too rigid with its schedule, which sets out that separation issues will be dealt with first and only then will they move on to trade and the transition.
Last month, people familiar with the situation said that EU leaders were considering expanding EU Brexit Chief Michel Barnier's mandate in October to include discussions on the transition. Those hopes were dashed on Wednesday, when an EU official said it was unlikely to happen.
Confirming what has long been suspected, the official said leaders at the summit next week will almost certainly say not enough progress has been made to move on to trade talks. December is now the next possible date to reach that milestone, leaving the U.K. with less than a year to sketch out a future relationship with its most important trading partner.
Read more: Slow Pace of Brexit Talks Could Doom Deal, EU's Tusk Warns
The government has spent the last week emphasizing its contingency plans in case talks break down without a deal. The first announcements emerged from the Conservatives' party conference, followed by some technical papers that set out policy proposals. Hammond said 250 million pounds has already been set aside and additional spending would come from reserves.
The more ardent supporters for Brexit within May's party want solid plans in place so that walking out is a viable option, and have been pressing the government to take it seriously.
Leaving without a deal could be catastrophic for the U.K. economy, plunging into legal limbo everything from flights to life-saving drugs. Rabobank estimates a no-deal exit would cost $15,000 per British worker by 2030. The government continues to say it wants to strike a deal, and the EU puts forward a similar line even as talks look increasingly like a display of brinkmanship.
Hammond on Wednesday said the U.K. had to plan for talks ending in a "bad-tempered" way and cooperation on crucial issues such as data-sharing being blocked.
"Some are urging me to spend money to show the EU we mean business," he said. "I think the EU know we mean business."
— With assistance by Nikos Chrysoloras, Thomas Penny, and Robert Hutton
Before it's here, it's on the Bloomberg Terminal.
LEARN MORE