China Wants a Win Where Draghi and Carney Fell Short
Bloomberg News
Analyst says smaller companies have long been 'undernourished'

Reserve cut 'basically means free money' for small banks: RHB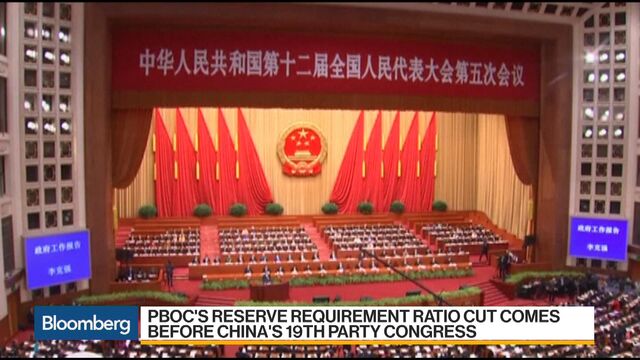 A blockage in credit to particular parts of China's economy has spurred the central bank to embrace a strategy used by the European Central Bank and the Bank of England -- while aiming for greater success.
With broad M2 money supply growth forecast to have lingered at a record-low 8.9 percent in September as policy makers push to curb over-indebtedness in some parts of the economy, the People's Bank of China is now trying to free up funds for others, like small businesses and agriculture. From January, banks doing enough of that sort of lending will get a reduction in required reserves of up to 1.5 percentage point, from 17 percent now for large lenders.
China's program, unveiled on Sept. 30, may improve on the outcome of the BOE's Funding for Lending Scheme or the ECB's targeted longer-term loans because the economy isn't swimming in other types of monetary stimulus nor in post-crisis gloom. And even though PBOC Governor Zhou Xiaochuan, who meets with other global policy chiefs this week in Washington, can take some pleasure in China's robust economic performance this year, there's plenty of need for funding still unmet.

Smaller enterprises in the world's second-largest economy have been "an under-nourished part of the market and have been for decades," said Keith Pogson, a managing partner at Ernst & Young LLP in Hong Kong and founder of the firm's Asian financial services practice. "The Europeans have struggled because there hasn't been a choke point in the market."
Read More: China steers credit to small business with targeted reserve cut
The RRR cut also comes just before President Xi Jinping convenes top cadres at the 19th Party Congress next week. Protecting the real economy has been an even greater priority in the run-up to that all-important twice-a-decade meeting, with authorities working overtime to cut excess leverage and contain risks that could derail growth.
Though policy makers recognize the private economy's contributions to job creation and tax revenue, big banks are often reluctant to lend to the sector because of the risk concerns. China first introduced targeted reserve-ratio reductions in 2014 to aid the real economy, but an expansion is needed because the financial system and economy will face tightening next year, Yao Wei, chief China economist at Societe Generale SA in Paris, wrote in a recent note.
"While large enterprises may have sufficient cash flows to weather the supply shock, small companies are likely to need financial assistance," she wrote. "The three-month gap between the announcement and implementation should increase banks' incentive to lend more support to those in need."

Third-quarter data for gross-domestic product is due for release on Oct. 19. The consensus forecast in a Bloomberg survey of economists points to a modest slowdown from the second quarter, with an expansion of 6.8 percent after 6.9 percent. While China's economy is in a radically different condition than that in the U.K. after the financial crisis or in the debt-laden euro area, the central bank is still responding to a financial system that doesn't serve all comers equally.
In the U.K. the BOE introduced Funding for Lending in 2012, before Mark Carney became governor the following year, allowing banks to borrow from it cheaply in return for lending to consumers and companies. Under Carney, the program was amended in 2014 to specifically target smaller enterprises. While the central bank said it contributed to "significant improvements in household credit conditions," the impact on businesses was more muted.

That year, the ECB under President Mario Draghi began "targeted longer-term refinancing operations," or TLTROs, offering funds to banks who lent more to companies and households. The program, which allowed banks to borrow based on the size of their loan book and lowered the interest rate charged if they increased it, was part of the central bank's push to spur growth and inflation that ultimately led to quantitative easing. Annual growth rates of credit to non-financial corporations and households are positive again, but the overall stock of credit to companies has barely risen.
Read more: The ECB's free money has helped banks more than the economy
For the PBOC, there's a second bonus if the program works. Should the lower reserve ratio result in a rush of borrowing by private businesses, the central bank will push lending back into official balance sheets and away from the shadow-banking sector they've struggled to regulate, according to Pogson at Ernst & Young.

The reserve-ratio cut appears tailored to offset the effects of other government policies. The clampdown on excessive borrowing and shadow banking has raised funding costs for banks and squeezed their profits. And that, in turn, has crimped lending to small firms, which are already disadvantaged by government policy that directs the biggest banks, owned by the government, to funnel more easy credit to other major state-owned enterprises.
The RRR cut "basically means free money" for smaller banks because they rely more on inter-bank borrowing, and economic indicators such as industrial output suggest demand for credit will intensify, according to Terry Sun, an analyst at RHB Securities Hong Kong Ltd.
Reserve ratio cuts will give banks even more of an incentive to divert credit to traditional channels, Sun said. "We do expect loan demand from small enterprises will be strong."
— With assistance by Yinan Zhao, Alfred Liu, Fergal O'Brien, Angus Whitley, Lucy Meakin, Alessandro Speciale, and Miao Han
Before it's here, it's on the Bloomberg Terminal.
LEARN MORE