AT&T Falls as Competition, Storms Lead to Video Subscriber Loss
By
Total TV customers decline by 90,000 as Harvey, Irma take toll

Sign-ups for new online service couldn't make up for losses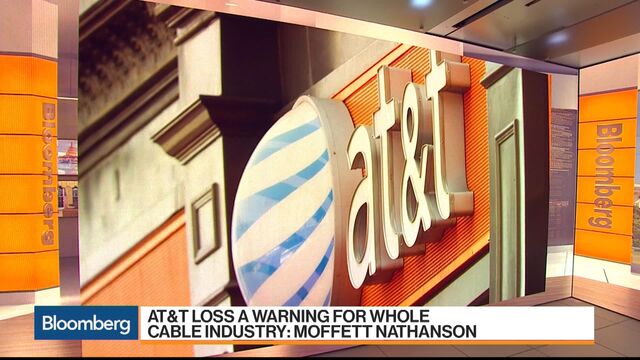 AT&T Inc. fell the most in almost a year after saying it lost 90,000 video subscribers in the third quarter because of heavy competition and weather-related disruptions.
AT&T provides phone, TV and internet service in the Houston area, which was ravaged by Hurricane Harvey in August, and in parts of Florida, hit by Hurricane Irma not long after. Higher credit standards contributed to the subscriber loss, the company said Wednesday in a filing. Without the 300,000 customers who signed up for AT&T's new online service, the subscriber loss would have been 390,000.
"No one should have expected AT&T's video subscriber results to be good," said Craig Moffett, an analyst and founding partner of MoffettNathanson LLC. "But we doubt anyone expected them to be this bad."
Cable and satellite providers are battling a horde of new rivals, such as streaming provider Netflix Inc. Last month, Comcast Corp. forecast subscriber losses of as much as 150,000 for the third quarter, also citing the storms and heavier competition.
They're also having to offer their own low-cost, low-margin online packages. AT&T itself has introduced DirecTV Now, an online, cable-like service that has increased to 791,000 subscribers. The growth suggests AT&T is gaining traction with the service after a slow start. Market leader Sling TV, owned by Dish Network Corp., had about 1.7 million subscribers as of July.
The shift to deliver TV over the internet by AT&T and its TV-network partners, such as Walt Disney Co.'s ESPN, thus far hasn't happened quickly enough to make up for losses of traditional video customers.
AT&T declined 3.2 percent to $36.59 at 11:13 a.m. in New York, the most intraday since Oct. 21, 2016.
Storms, Earthquakes
Damage to AT&T's network from the storms, along with earthquakes in Mexico, reduced earnings by about 2 cents a share and sales by about $90 million in the quarter, the company said, without providing its full financial results. Analysts estimate the company will report earnings of 75 cents a share excluding items on sales of $40.2 billion.
The company maintained its forecast for a mid-single digit earnings growth for the full year, compared with analysts' projection for about a 4 percent increase.
Even so, there are concerns about profitability margins, said Mike McCormack, an analyst with Jefferies LLC, said in a note Thursday. The gains in lower-priced DirecTV Now customers will be "contributing to margin pressure," he wrote.
Despite 900,000 fewer mobile-phone upgrades than a year earlier, AT&T said it added wireless subscribers in the quarter, without providing a specific number.
Before it's here, it's on the Bloomberg Terminal.
LEARN MORE