As Trump moves to save coal, Sierra Club aims to retire plants

Bloomberg Philanthropies boosts investment in campaign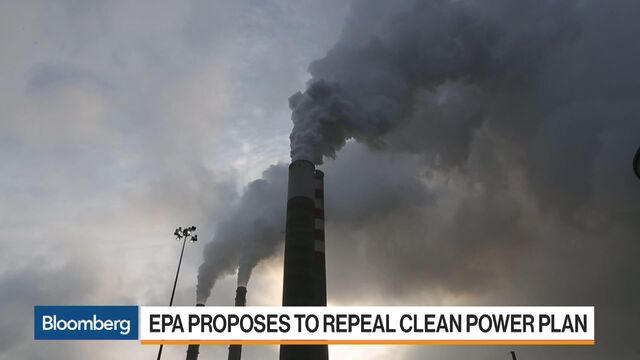 The Sierra Club and other environmental groups are expanding a campaign to retire U.S. coal power plants with a $64 million contribution from former New York Mayor Michael R. Bloomberg, as the the environmental group aims to blunt efforts by the Trump administration to rescue coal.
The announcement Wednesday came a day after the Trump administration began a formal effort to repeal Obama-era curbs on greenhouse gas emissions from power plants. Compared to other sources of electricity, including natural gas, wind, solar and nuclear power, coal generates more carbon dioxide for each unit of electricity generated.
"The war on coal has never been led by Washington. It has been led by market forces that are providing cleaner and cheaper sources of energy," along with local activists, Bloomberg told reporters at the Sierra Club's Washington office. "The war on coal is saving tens of thousands of lives, and we won't stop fighting until we save every last one."
Bloomberg, the founder and majority owner of Bloomberg LP, parent of Bloomberg News, announced the gift from his charitable organization, Bloomberg Philanthropies.
President Donald Trump, who has dubbed climate change a hoax, campaigned on promises to pull the U.S. out of the Paris climate agreement and to jettison the Obama-era Clean Power Plan. He has now taken steps to do both. 
As World Edges Away From Coal, Trump Seeks Revival: QuickTake
On Tuesday, Trump's Environmental Protection Agency issued a formal proposal to repeal the Clean Power Plan, kicking off a long process of scrapping the regulation, and, possibly, replacing it with more modest curbs. In addition, Energy Secretary Rick Perry has asked the Federal Energy Regulatory Commission to develop a rule that would aid nuclear and coal-fired power plants by valuing the fuel they have stored on site.
Bloomberg on Wednesday called Perry's move one of the "worst ideas" that has ever come out of Washington -- "and that's saying a lot."
"Coal jobs aren't coming back," Bloomberg said. "Trying to force taxpayers to subsidize them back into existence will only lead to more death and disease." Instead, the federal government should be doing more to help people in coal country "gain new skills" and "find new jobs in growing industry."
The Sierra Club's Beyond Coal campaign claims credit for helping to drive the closing or announced retirement of 259 U.S. coal plants since the effort began in 2010. The initiative has helped galvanize grassroots opposition to coal-fired power, and worked out settlements with state regulators and utility owners to shutter the plants.
Read More: What Becomes of the Paris Climate Accord Without U.S.
"Today, we're inspired by a vision of making power without pollution," said Michael Brune, the Sierra Club's executive director. That vision is one in which "we can have our electric sector powered by 100 percent clean energy, a movement where we don't just talk about climate change or wring our hands about climate change, but we do something about it."
The new funds are intended to support the Sierra Club and other groups working with mayors, governors, utility regulators and private sector leaders to "develop, implement and strengthen policies" that make it easier for solar and wind power to compete, according to a news release. The effort is aimed at closing 60 percent of the nation's coal-fired power plants by the end of 2020.
"If coal is a 'dead end' fuel source, why does billionaire Bloomberg need to give another $64 million to environmental activists to kill it?" National Mining Association spokesman Luke Popovich said by email. "Coal production is up more than 15 percent in this past year while our exports over the same period are up by over 50 percent. The Sierra Club can't defeat coal even with the help of eight years of the Obama administration."
Can Trump Truly Revive Coal Jobs? See This QuickTake Q&A
Bloomberg noted his collaboration with California Governor Jerry Brown on a state-based effort to meet targets in the Paris agreement with or without formal support from the Trump administration.
In 2011, Sierra Club announced a $50 million, four-year gift from Bloomberg Philanthropies to its campaign against coal. Bloomberg Philanthropies also pledged $15 million to back operations of the United Nations Framework Convention on Climate Change earlier this year after Trump said he would abandon the Paris agreement. That gift effectively underwrites the U.S. portion of the convention's operating budget.
In total, Bloomberg has committed more than $100 million to reduce the nation's reliance on coal through support for the Beyond Coal campaign.
Coal plants are facing lots of pressure beyond the Sierra Club. Flat electricity demand and cheap natural gas has depressed wholesale power prices, curbing the profits of coal plants. And installations of solar and wind are leading to competition from those carbon-free electricity sources.
Before it's here, it's on the Bloomberg Terminal.
LEARN MORE