business
Americans Only Watch World Cup Soccer When Americans Are Playing
By , , and
U.S. team's four games dominated nation's viewership in 2014

With U.S. out of 2018 cup, Fox, Telemundo will rely on Mexico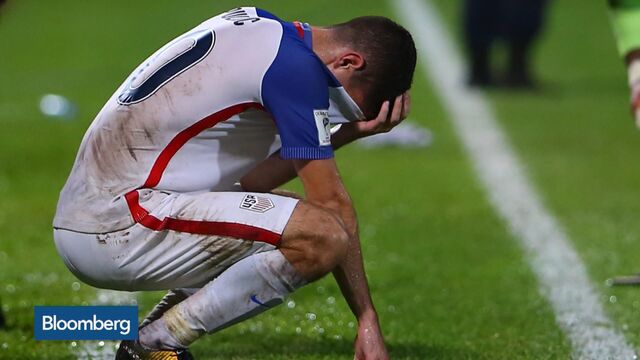 If ratings from the 2014 World Cup in Brazil are any guide, the elimination of the U.S. men's soccer team from the field for the 2018 World Cup in Russia spells gloom for Fox Sports and Telemundo, which hold the domestic rights to the event.
Fox is paying more than $400 million for English-language broadcast rights for 2018 and 2022. Telemundo is spending about $600 million for the Spanish-language rights. Three years ago, when those rights were held by ESPN/ABC and Univision, U.S. matches drew four of the six largest audiences across the monthlong event.
The Nielsen ratings below show the average audience for each game in the 2014 World Cup for the duration of each telecast, an important benchmark for advertisers.

In 2014, the U.S. played four matches and was eliminated by Belgium in the Round of 16. U.S. games drew an average of 15.8 million viewers on ESPN/ABC and Univision, almost three times the audience for other games up to that point in the tournament. For the English-language audience, the gap was even greater. On average, 11.3 million people watched the U.S. games -- almost four times more than watched other matches through the Round of 16.
Telemundo faces less severe headwinds. Mexico's national team, which qualified for the 2018 World Cup, is a major draw for Spanish language viewers. The U.S. team was a draw for Univision's audience too, but the difference wasn't as stark: Roughly 44 percent more Spanish-language viewers tuned in to see the U.S. play relative to other games through the Round of 16.

Before it's here, it's on the Bloomberg Terminal.
LEARN MORE