U.K. Shows 'Mixed Picture' as Output Rises, Trade Deficit Widens
By
Industrial production rises 0.2%, imports continue to rise

Figures unlikely to deter Bank of England from raising rates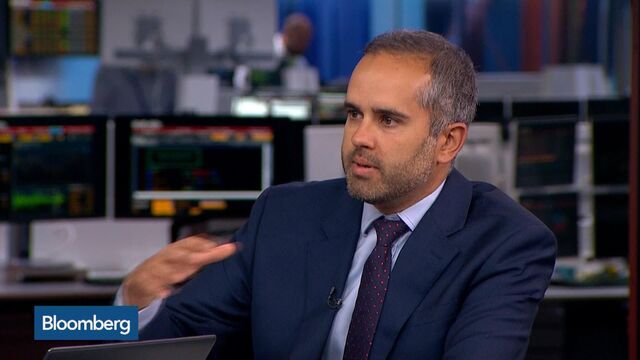 A picture of an economy struggling to gain momentum emerged in U.K. figures published Tuesday.
Industrial production rose 0.2 percent in August, boosted by a better-than-expected manufacturing performance, and construction clawed back some of the losses sustained in July, the Office for National Statistics said. But the trade deficit unexpectedly widened to the most in almost a year as imports jumped.

The British economy has dropped to the bottom of the Group of Seven growth league since the vote to leave the European Union last year as political uncertainty and inflation took their toll on spending.
But while Tuesday's report paints what the ONS calls a "mixed picture," it is unlikely to deter Bank of England policy makers who have hinted they are preparing to raise interest rates as early as November to combat inflationary pressures.
Manufacturing rose 0.4 percent in August, boosted by metals and pharmaceuticals, and construction output climbed 0.6 percent following a 1 percent decline in July.
While industrial production is on course for a modest increase between July and September, construction is poised for a second straight quarter of contraction. Building output will fall unless September sees a gain of 1.9 percent, an increase last seen in December.
Trade Drag
Net trade also seems likely to drag on growth, with little sign yet that the decline in the pound since the Brexit vote has delivered the kind of benefits that had been expected.
The deficit in goods and services climbed to 5.6 billion pounds ($7.4 billion) in August, meaning the shortfall will widen sharply in the third quarter unless there is a near-unprecedented surplus in September. The deficit in goods alone hit an all-time high in August.
The increase was driven almost entirely by imports, suggesting the increased cost of foreign goods is failing to persuade British consumers to switch to cheaper domestic alternatives.
Manufacturing has been boosted by car production this year, but vehicle output fell in August. While that was partly due to maintenance shutdowns, industry figures last week show demand for cars is weakening. A separate survey this month showed the construction sector shrinking in September amid Brexit jitters.
Consumer confidence remains fragile and a surprise decline in services output in July dented hopes of a pickup in the largest part of the economy in the third quarter.
GDP expanded less than 0.6 percent in the first half despite upward revisions to manufacturing and construction, and a similar pace of growth is widely predicted for the second half of the year.
— With assistance by Mark Evans, Harumi Ichikura, and Zoe Schneeweiss
Quotes from this Article
Before it's here, it's on the Bloomberg Terminal.
LEARN MORE