U.K. Retailers See No Meat in Bare-Bones Brexit Contingency Plan
By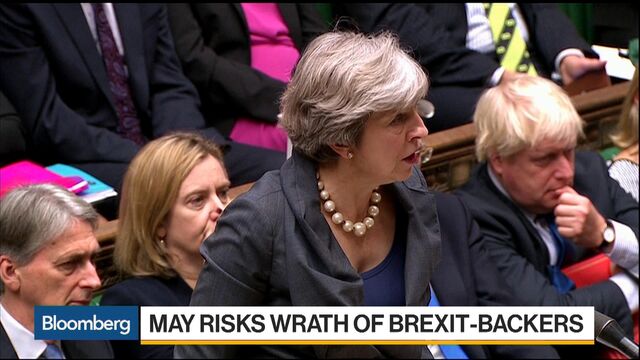 Follow @Brexit for all the latest news, and sign up to our daily Brexit Bulletin newsletter.
U.K Prime Minister Theresa May said there was a plan for a no-deal Brexit scenario. But retailers from J Sainsbury Plc to Marks & Spencer Group Plc want details.
The British Retail Consortium, which represents most of the country's biggest brands, has a lot riding on how the government manages a messy transition out of the European Union. Businesses want more time to prepare and specifics on how trade won't be derailed.
In the event of a no deal, the U.K.'s supply of fresh food would be disrupted as Britain imports half the food it eats. A government document on customs attempted to sketch out how ports would treat goods, but it "throws up more questions than answers," according to William Bain, policy adviser at the BRC.
One government suggestion was a computerized system that could notify ports of incoming shipments before they arrive, as well as minimizing checks on goods exported by pre-authorized businesses.
But companies selling clothes and food want to know the size and scope of additional investments in ports as well as the facilities that would be bought to perform checks.
Before it's here, it's on the Bloomberg Terminal.
LEARN MORE