The IMF's View Brightens: Takeaways From World Economic Outlook
By
Fund sees no rush for central banks to hike with inflation low

China upgrade accompanied by warning of a 'sharp' slowdown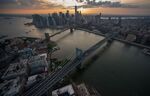 The IMF lifted its global growth forecast amid a broad global recovery. But the fund is urging policy makers to take action now to boost economic potential. Here are five takeaways from the fund's World Economic Outlook:
No Rush To Tighten
The IMF devotes considerable space to the persistence of low inflation in advanced economies, a trend that has baffled central bankers. In short, the fund doesn't see the rush to raise rates, given that inflation remains below central-bank targets in many countries. The IMF downgraded its global inflation forecast for both this year and next, partly due to lower-than-expected oil prices.
Part-Time Work Curbing Wages
Conventional measures such as the unemployment rate explain most of the wage slowdown in countries where joblessness remains above levels during the Great Recession, the IMF found. But where the unemployment rate has fallen below the pre-recession average, involuntary part-time employment also appears to be weighing on wage growth. There could be more slack in the job market than captured by headline unemployment, meaning central banks such as the Fed may have to look at other gauges of labor market tightness.
U.S. Tax Reform Not the Base Case
President Donald Trump and Republican leaders in Congress may find a way to turn their tax reforms into law, but the IMF isn't betting on it. The U.S. growth forecast assumes no boost from fiscal stimulus. The fund may be playing it safe after being whipsawed by politics in Washington. Just before Trump took office in January, the IMF added a fiscal boost to its U.S. forecast from the then president-elect's proposals. But in June, the fund cut its U.S. outlook, removing assumptions that the administration will reduce taxes and increase infrastructure spending.
Another Warning on China's Debt
The IMF raised its outlook for China's growth this year and next. But the reasons for the upgrade may not all be good news: the fund is now assuming a slower rebalancing of the Chinese economy toward services and consumption, as well as a higher debt trajectory and diminished fiscal space to respond to a crisis. All of which, the IMF warns, imply a higher risk of a "sharp" slowdown in China's growth.
Japan Most at Risk of Recession
The IMF puts the probably of a recession in Japan within the next year at just under 40 percent. Still, the risk dropped from April, and the overall global picture is looking better, with the chance of a downturn also down in the euro area and a group of five big Latin American countries. The risk of a U.S. recession rose slightly from April and now stands at slightly less than 25 percent.
Before it's here, it's on the Bloomberg Terminal.
LEARN MORE