Thai Premier Says Elections to Be Held in November 2018
By
An exact date for the poll will be determined around June

The vote would follow more than four years of military rule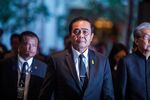 Thailand's long wait for a return to democracy is set to end after the leader of the country's military government said elections will be held in November 2018.
An exact date for the poll will be determined around June next year, Prime Minister Prayuth Chan-Ocha told reporters in Bangkok on Tuesday.
"This gives a clearer picture," he said. "Political parties and politicians should remain calm."
Former army chief Prayuth seized power in Thailand in May 2014 after a period of political unrest, pledging to restore stability and bring back representative government, but the time-line for polls remained hazy until today's comments. The vote will be held under a military-backed constitution, the nation's 20th, a document that critics say gives appointed soldiers, judges and bureaucrats the power to stifle elected politicians.
Former Prime Minister Abhisit Vejjajiva said in August that Thailand faces the risk of discord between appointed senators and elected representatives under the provisions of the latest charter.
The current stretch of military rule is one of the longest since the 1970s, in a country with a history of coups since the end of absolute monarchy in 1932. 
In the years before the most recent army takeover, fissures in Thai society triggered sometimes violent clashes between urban royalists and rural backers of exiled former leader Thaksin Shinawatra. 
Political Risk
Thaksin's sister, former Prime Minister Yingluck Shinawatra, fled Thailand in August before being sentenced in absentia to five years in jail in a negligence case she said was politically motivated.
While a return to democracy runs the risk of exposing underlying tensions, and putting the spotlight on the country's history of elections followed by coups, investors appear sanguine.
The benchmark SET index of stocks erased losses following Prayuth's comments on the poll, which came during the lunchtime break in trading. The index advanced 0.9 percent at the close in Bangkok. The baht appreciated 0.4 percent to 33.253 per dollar as of 4:45 p.m. local time. The yield on the 2.125 percent government bonds due December 2026 fell 1 basis point to 2.298 percent.
"This is a positive shock to the markets and the economy," said Tim Leelahaphan, Bangkok-based economist at Standard Chartered Bank. "Normally election year is a good year for the economy with lots of poll activities going on. I think this will support baht strength."
The currency is the strongest performer this year in an Asian basket tracked by Bloomberg, strengthening 7.8 percent on a substantial current-account surplus and a net inflow of about $8.5 billion into Thai bonds.

The confirmation of the November 2018 timeline is positive news and may help the stock market to sustain a higher price-to-earnings ratio, said Pornthep Jubandhu, a senior investment strategist SCB Securities Co. in Bangkok.
"Confidence usually pushes the ratio higher," he said.
The SET index began rallying after Yingluck's flight on a perception of easing political risk and has climbed almost 11 percent so far in 2017. It trades at about 15.8 times estimated 12-month earnings, compared with a five-year average of 13.8 times.
Prayuth's comments clarified recent confusion over the election. A U.S-Thailand joint statement on Oct. 2 after his meeting in Washington with President Donald Trump said the president welcomed Thailand's commitment to a vote in 2018.
Days later, the president of Thailand's National Legislative Assembly, Pornphet Wichitchonchai, signaled the vote could come in the first half of 2019 because related laws need to be in place first.
Prayuth's government clamped down on political activity and is crafting a 20-year national strategy that is designed to guide future elected administrations.
Restrictions on politicians will begin easing at the appropriate time, he said.
"I insist I don't want to put anything off," Prayuth said.
— With assistance by Yumi Teso, Natnicha Chuwiruch, Tang Nguyen, and Suttinee Yuvejwattana
Before it's here, it's on the Bloomberg Terminal.
LEARN MORE