Spanish Broadcaster Covered Wine Harvest Instead of Breakaway Vote
By
Public network skewered for letting politics dictate coverage

Critic: RTVE 'disconnected itself from Catalonia and Spain'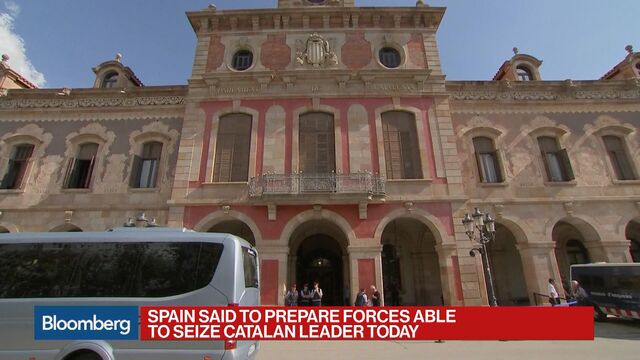 As Spanish police clashed with Catalonians voting in a renegade referendum that threatened five centuries of nationhood, the country's public television network was airing a documentary on French wine harvesting and years-old reruns of shows about living abroad.
The decision by La 1, public broadcaster RTVE's main channel, to ignore the biggest story in Spain since the global financial crisis produced stinging criticism and a protest by newsroom workers. Spaniards, already grappling with the fallout from the illegal Oct. 1 independence vote, are now debating the future of RTVE, which is widely seen as having failed in its duty to offer independent information from varied sources.

RTVE "disconnected itself from Catalonia and Spain," Ferran Monegal, a Catalan television critic, said by phone. "People couldn't turn to public TV to be informed. It didn't do its job."
The crisis at RTVE revives a long-running political controversy over who should control the radio and television conglomerate, whose board is dominated by government appointees. In 2010, under a Socialist government, it stopped running advertisements, leaving the network fully dependent on state subsidies for its budget. The Popular Party in power now removed some checks and balances designed to prevent political influence. While most funding comes from a special levy paid by private broadcasters and phone operators, the structure leaves an opening for the politically powerful to exert influence over the coverage.
Opposition parties including Ciudadanos and Podemos have demanded that government power to elect RTVE's management be curbed and a new system be instituted requiring a broader consensus of parties. Private broadcasters have also voiced complaints about having to help fund RTVE and demand a more-balanced field of competition.
The BBC, the world's oldest national broadcaster, this year replaced its governance board with external oversight by the U.K.'s communications regulator Ofcom. The charter has elaborate policies for journalistic principles like impartiality, fairness, accuracy, and covering elections and referendums.
RTVE is one of Spain's main news outlets. La 1 has jumped in to cover anti-independence events, but it left most of the coverage on referendum day to occasional spots on its 24-hour news channel. RTVE declined to comment.
The broadcaster competes with news from Mediaset Espana Comunicacion SA's Telecinco and, to a greater degree, La Sexta, which is owned by Atresmedia Corp de Medios de Comunicacion SA. Based on audience ratings, La Sexta has led television coverage of Catalonia.
RTVE's mission, according to its website, is to be the nation's reference point for news "because of its rigor, independence and plurality." In its biggest political test since the return of Spanish democracy four decades ago, the network "abandoned its obligations and left to other TV networks the responsibility of informing citizens," its union commission said.
On Oct. 2, the day after the Catalan voting, workers gathered inside the broadcaster's newsroom carrying signs with the word "shame" in Spanish and Catalan, and demanded the removal of top news management. Since the vote, there has been some coverage, but mainly from a pro-government perspective -- with little inclusion of Catalan officials. La 1 didn't cover a massive Oct. 3 Catalan strike, for example.
RTVE isn't the only publicly funded news outlet coming under fire. Catalonia's TV3 television, initially created to help expand the use of the Catalan language, is widely seen as a mouthpiece for the regional government that funds it -- especially during elections, when larger political parties are allotted more air times than smaller rivals. Monegal dubs it "the cheerleader" for the independence process.
While the criticism of RTVE isn't new, the controversy over its use for political purposes flared up this year as opposition parties sought to curtail the government's influence. In the senate, the Popular Party reached an agreement with the main opposition, the Socialists, on how to select management for the broadcaster, brushing aside other opposition groups' suggestions.
With the Catalan coverage, RTVE "abdicated from its responsibility, which is to inform all Spaniards," Monegal said. "A huge fire was burning across Spain and they couldn't take it."
— With assistance by Thomas Gualtieri
Before it's here, it's on the Bloomberg Terminal.
LEARN MORE