May Risks Tories' Wrath With Her Ambiguous Words on Brexit
By
'I voted Remain, for good reasons at the time,' May tells LBC

Hammond says not budgeting for 'no deal,' Green backs Remain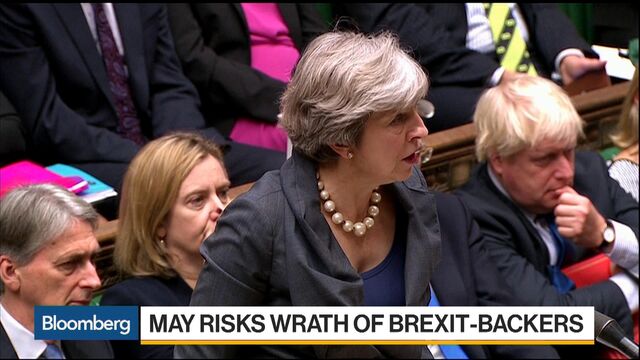 Follow @Brexit for all the latest news, and sign up to our daily Brexit Bulletin newsletter.
U.K. Prime Minister Theresa May and her most senior cabinet ministers risk igniting the anger of their Tory colleagues with a series of comments that raise questions over their commitment to Brexit.
In separate interviews Tuesday, the prime minister refused to say she would vote to leave the European Union in another referendum, while her deputy, Damian Green, said he still believes the country is better off inside the bloc. Both insisted there was no chance of a new vote.
"I voted Remain, for good reasons at the time but circumstances move on," May told LBC radio. "I'm being open and honest with you -- what I did last time round was I looked at everything and came to a judgment and I'd do exactly the same this time round -- but we're not having another referendum and that's absolutely crucial."
She was pressed about the issue during a question and answer session in Parliament on Wednesday, and her response was short: "There is no second referendum. The people of the United Kingdom voted and we will be leaving the European Union in March 2019."
As Green told Channel 4 News he still supported EU membership, Chancellor of the Exchequer Philip Hammond rejected a key euroskeptic demand to commit resources to planning for the potential failure of negotiations. 
May's Dilemma
The softer tone of the comments -- from three ministers who all opposed Brexit last year -- illustrates May's high-wire act as she tries to keep Europe and businesses sweet while sounding tough to her Brexit-supporting Tory colleagues at home. 
Any suggestion the prime minister's heart is not in Brexit could be fatal to her chances of surviving another coup attempt from her restless party. Yet, it is likely to be welcomed by companies and politicians who want Britain to stay in the single market, or even abandon the process of leaving.
May's Conservative Party has closed ranks behind her this week, and immediate reaction was muted. Nigel Farage, former leader of the U.K. Independence Party, denounced the prime minister in the Telegraph newspaper as "conformist, subservient, submissive" to the EU. "This is the clearest proof yet that the Great Brexit Betrayal is under way," he wrote.
The prime minister will face Parliament at her weekly questions session at noon on Wednesday, and at 5 p.m. Tory lawmakers will meet at their backbench 1922 Committee, a powerful body whose support May needs to stay in power.
In recent days, the premier and her team have stepped up planning for a breakdown in the talks. Negotiations in Brussels remain stuck on the questions of the divorce terms, such as the size of the U.K.'s exit payments and the future of EU citizens' rights. 
Both the U.K. and the EU now apparently fear that progress on agreeing to the divorce terms could be too slow to allow enough time to discuss the future trading relationship between the two sides. This could make a "no deal" scenario more likely. Talks were scheduled to move on to trade this month though few now believe this will be possible.
Standing Alone
In recent days, May's officials privately raised concerns over the prospects of a breakdown in talks. On Monday, May herself set out contingency plans for a "standalone" U.K. customs regime if the country cannot strike a new agreement with the EU.
As Brexit talks resumed amid low expectations of progress in Brussels, EU President Donald Tusk raised the prospect that they could collapse. In a speech in the Belgian capital on Tuesday, he said that without an improvement in the negotiations soon, both sides "will have to think about where we are heading."

Writing in The Times on Wednesday, Hammond said the government would be prepared for a "no deal" scenario if the talks fail but would not commit funding for emergency customs measures and truck bays at ports too soon. "We are planning for every outcome and we will find any necessary funding and we will only spend it when it's responsible to do so," Hammond wrote. He is preparing the U.K.'s budget, which he'll publish next month.
Red Lines
Hammond's comments are unlikely to satisfy pro-EU lawmakers either. More than 120 opposition party members of Parliament have called on ministers to "come clean" and publish the government's assessments of the impact on the economy of a "no deal" exit.
May is under pressure from Tory lawmakers including Foreign Secretary Boris Johnson, who led the Leave campaign in 2016 and is impatient to deliver a clean break from the 28-country bloc.

On Monday, the prime minister confirmed she was rejecting Johnson's "red line" demand to take the U.K. out of the rule of the European Court of Justice during a transition phase after Brexit in 2019. The premier also said Britain would have to accept new laws from Brussels during any transition period. Her comments concerned Tory euroskeptics such as Jacob Rees-Mogg.
Keeping her colleagues happy is at least as important to May as negotiating a good deal in Brussels. After a disastrous speech to the Conservative Party conference last week, she faced a renewed bout of plotting from lawmakers who want to replace her as party leader and prime minister.
— With assistance by Ian Wishart
Before it's here, it's on the Bloomberg Terminal.
LEARN MORE