May Under Air Attack With Jobs Threatened at BAE and Bombardier
By
BAE announcement of 2,000 cuts puts U.K. government in a bind

It's also drawing criticism for handling of Boeing-Bombardier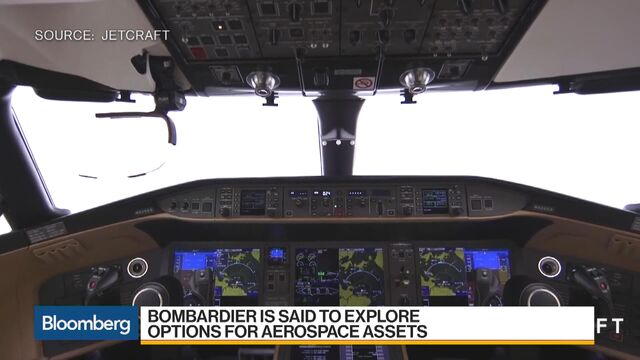 As if Brexit weren't enough, Prime Minister Theresa May is fighting on two fronts to protect jobs across the U.K. after BAE Systems Plc announced cuts and a dispute between Bombardier Inc. and Boeing Co. festers.
Business Minister Claire Perry was summoned to Parliament Tuesday to answer questions from lawmakers after the BAE announcement Tuesday to lay off 2,000 employees from Lancashire in northern England to Portsmouth in the south.
Two hours later, her boss, Business Secretary Greg Clark, gave a statement outlining government efforts to defuse a U.S.-Canadian trade spat that puts at risk more than 4,000 Bombardier jobs in Northern Ireland.
It's not been an easy week for May. She survived a disastrous Conservative Party conference and a plot to oust her just as Brexit talks were resuming in Brussels. While playing a game of brinkmanship with the European Union she's also dealing with the fallout of big brands scaling back.
The timing couldn't be worse with the economy stuck in the slow lane, the Bank of England poised to raise interest rates and the Brexit-related uncertainty weighing on investment. All this is happening against a backdrop of a weakened leader whose authority appears shot.
In the case of Boeing, her efforts to lobby President Donald Trump failed to prevent the U.S. from slapping punitive duties on Bombardier, leaving the government to work behind the scenes.
Working Tirelessly
"This government has been working tirelessly to bring the case to a satisfactory resolution and we will continue to do so," Clark said. "We will continue vigorously and robustly to defend U.K. interests in support of Bombardier, its workforce in Belfast and those in its U.K. supply chain."
The threat to jobs is also a blow to May's plans to boost science and engineering skills in Britain and devise an industrial strategy for the future. When that strategy was published in January, the government described Britain as "one of the world's best business environments for advanced aerospace engineering."
BAE put the job cuts down to the need to align its workforce "more closely with near-term demand." The defense company is struggling to secure new orders for the Eurofighter Typhoon warplane and is slimming down its naval ships and cyber-security businesses.
"We must be resolute in pursuing export opportunities for this fine British company," Perry said. "It's incredibly important given the skills that have been built up by people in the workforce that those are retained within the U.K. industry as much as possible."
'Dressing Down'
Clark sought to dispel criticism that the government hasn't been fully engaged in the defense of Bombardier, after the opposition Labour Party's trade spokesman, Barry Gardiner, on Monday told Bloomberg that May should give Boeing Chief Executive Officer Dennis Muilenberg a "dressing down."
He pointed out that May has twice raised the issue with Trump, with Foreign Secretary Boris Johnson, Defense Secretary Michael Fallon and Trade Secretary Liam Fox all weighing in. He said he expected to hold further talks in the coming days with Boeing, Bombardier and the governments of the U.S. and Canada.
The Boeing-Bombardier case is complicated by Boeing also being a major U.K. employer, and May wanting to strike a post-Brexit trade deal with the U.S. It's politically important too because the premier depends on the votes of 10 lawmakers from Northern Ireland's Democratic Unionist Party to have a working majority.
The Labour Party's business spokeswoman, Rebecca Long-Bailey pointed to "catastrophic ramifications" for Bombardier and Northern Ireland, where the Canadian company contributes about 8 percent of the region's economic output.
DUP lawmaker Gavin Robinson asked Clark "how long it will be until we can assuage the concerns of those in Belfast and in Canada that there are meaningful and genuine consequences in store should there not be an adequate resolution" to the case.
"This is not the behavior we expect from a trusted partner and it could have implications for the future relationship between Boeing and the United Kingdom," Clark said in a veiled threat to the U.S. aerospace giant, which is a U.K. government contractor.
In a sign the U.S. company may be feeling the pressure, it took out a two page advert wrapping around the front cover of London's Evening Standard newspaper on Tuesday, with a web link and the line"see how we're helping build a stronger U.K."
— With assistance by Thomas Penny, Christopher Jasper, and Thomas Seal
Before it's here, it's on the Bloomberg Terminal.
LEARN MORE